Welcome to Cover Lover, where I share my favourite covers! Hannah  of Once Upon a Time is the inventor of this particular "meme", so head over there to see the covers she's already shared.
This week: A book that has been on my shelf for a little while now: The Gathering Dark by Leigh Bardugo. In the US (possibly other countries as well) it was published as Shadow and Bone, with a much less attractive cover (in my opinion).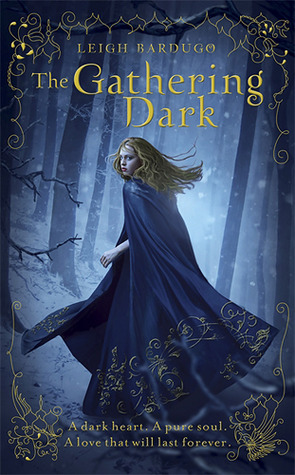 Title: The Gathering Dark (Goodreads)
Author: Leigh Bardugo
Series: The Grisha #1
Published: Indigo, June 2012
Goodreads Blurb:
The Shadow Fold, a swathe of impenetrable darkness, crawling with monsters that feast on human flesh, is slowly destroying the once-great nation of Ravka.
Alina, a pale, lonely orphan, discovers a unique power that thrusts her into the lavish world of the kingdom's magical elite—the Grisha. Could she be the key to unravelling the dark fabric of the Shadow Fold and setting Ravka free?
The Darkling, a creature of seductive charm and terrifying power, leader of the Grisha. If Alina is to fulfil her destiny, she must discover how to unlock her gift and face up to her dangerous attraction to him.
My thoughts:
This cover is very beautiful – not only is the blue rich and gorgeous, but the highlights are actually gilded and shiny. Each time I see it on my shelf it begs me to pick it up to read it! Not only that, but every review I've seen sings its praises. I think I'll put it on my Bout of Books list for January and make sure I get to it.