It seems that 2012 is an auspicious time to be starting a blog about fantasy books – not only is it the Australian National Year of Reading, but it is also the lunar year of the Dragon!
National Year of Reading
2012 is the National Year of Reading in Australia, focusing on teaching children to read and love reading, and also to allow keen readers to find new inspiration. Events are planned all over the country in libraries, bookshops and schools, so if you're in Australia make sure you check out the Love2Read website at http://www.love2read.org.au to see what's on near you and how you can get involved.
Year of the Dragon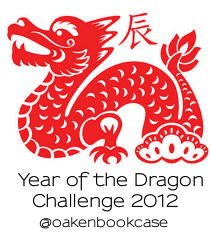 This year is the Lunar year of the Dragon, considered the luckiest year in the Chinese zodiac. Those born in the year of the Dragon are fierce, ambitious and ready to take risks.
What better way to celebrate the year of the Dragon than by reading a stack of Dragon-related stories? My Year of the Dragon challenge is this: read five books related to Dragons in some way then come back and let me know what you read! Take a button for your site if you wish as well.
Here are a few suggestions:
Do you have any other recommendations of Dragon books to read?