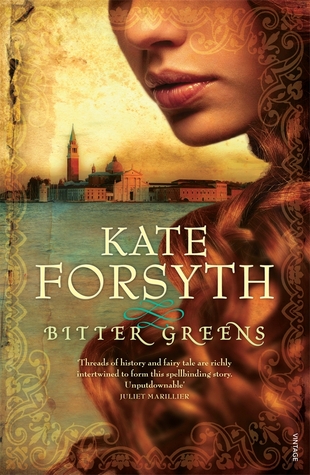 Title: Bitter Greens (Goodreads)
Author: 

 Kate Forsyth (website)
Rating:





Charlotte-Rose de la Force has been banished from court by the Sun King, Louis XIV, after a series of scandalous love affairs. She is comforted by an old nun, Sœur Seraphina, who tells her the tale of a young girl who, a hundred years earlier, is sold by her parents for a handful of Bitter Greens …
After Margherita's father steals a handful of greens—parsley, wintercress and rapunzel—from the walled garden of the courtesan, Selena Leonelli, they give up their daughter to save him from having both hands cut off.
Selena is the famous red-haired muse of the artist Tiziano, first painted by him in 1513 and still inspiring him at the time of his death, sixty-one years later. Called La Strega Bella, Selena is at the centre of Renaissance life in Venice, a world of beauty and danger, seduction and betrayal, love and superstition.
Locked away in a tower, growing to womanhood, Margherita sings in the hope someone will hear her. One day, a young man does…
Three women, three lives, three stories, braided together to create a compelling story of desire, obsession, black magic, and the redemptive power of love.
Details
Series: Stand-alone
Genre: Fantasy/historical romantic fairy tale
Published: Vintage Australia, March 2012, tbp Allison & Busby in the UK, 25 February 2013.
Pages: 576

Paper copies: Amazon.co.uk (pre-order) • Book Depository (pre-order) • Booktopia (AU – available!)
E-copies: Amazon.com • Amazon.co.uk (pre-order) • Barnes & Noble • Bookworld (epub)
Review
Bitter Greens is partly a heart-breaking retelling of the Rapunzel fairy tale, and partly historical drama set in 17th-century France. I enjoyed every moment!
Charlotte-Rose de Caumont de la Force, a writer and great lover of the salon scene in Paris, has been banished to a convent by the Sun King, Louis XIV of France. The past twenty years of her life at court in Versailles has been filled with scandal and rumours of black magic, and during the course of Bitter Greens we hear about these stories through a series of flashbacks.
While working in the garden at the convent, Charlotte-Rose is told a story by one of the nuns. In Venice during the late 16th Century, a young girl, Margherita, is stolen from her parents by Selena (known as La Strega), a beautiful but dangerous witch. Margherita is locked in a high tower on an island and La Strega only comes to visit once a month with supplies, calling for Margherita to let down her long hair so that she may climb up. Each month, La Strega takes nine drops of blood from Margherita's wrist and bathes in it to keep herself looking young and beautiful. Margherita longs for someone to rescue her.
The lives, loves and losses of Charlotte-Rose, Margherita and Selena are woven together in Bitter Greens. Each character, setting and emotion are described in such gorgeous detail I almost felt like I was watching a drama on TV rather than reading! I found it very compelling and found myself snatching moments to read whenever I could.
The only thing that put me off slightly at times was the way the story jumps back and forth to the different story arcs after many chapters. One moment I was happily absorbed in the story of Margherita and then was jolted back into Charlotte-Rose's France. By the end of the book I was used to it, but at first it was a little jarring.
There have been some horrible moments in the histories of France and Venice, and some of that horror has been captured in Bitter Greens – the plagues in Venice that decimated the population, the slaughter of the reformée Huguenots in France and other, earlier persecutions.
Reading about how women were treated in times gone by makes me really grateful to those women who fought for equality during the twentieth century. Women like Charlotte-Rose and Selena did their best to survive and then make a difference in a world dominated by men. Nowadays, we modern women should never take our ability to work, vote and speak our minds for granted.
Bitter Greens is a fairy tale wrapped within a historical drama. With the character of Charlotte-Rose based on a real woman and the settings and events taken straight from history, it is obvious that a great deal of research and effort (and fun!) went into the making of this book. Well done, Ms Forsyth, you have created a masterpiece!
---
Interested in reading more about the creation of this book? All the Books I Can Read hosted a guest post from Kate about Vampire legends of Venice, and the author Elizabeth Storrs posted an interview with Kate on redroom.com, talking about inspiration and the art of Bitter Greens.
Warnings: Violence including towards children, graphic sexual situations (some abusive)
What did others think of Bitter Greens?
"Bitter Greens is a stunning novel. I was spell bound from beginning to end by the lush prose, magnificent characters and intriguing story." – Book'd Out

"Forsyth demonstrates her skill as a Fantasy writer, with the storytelling every bit as enchanting as fairytales of old." – Devoted Eclectic
"It's the sort of novel that has so many elements that it will appeal across the board, to historical fiction fans, fantasy fans, even fans who enjoy a bit of the romance. But ultimately if you like a good story no matter what the particular genre, then this book is definitely for you!" – All The Books I Can Read