Welcome to Cover Lover, where I share my favourite covers! Hannah  of Once Upon a Time is the inventor of this particular "meme", so head over there to see the covers she's already shared.
My to-read pile just grows and grows – I can't help it. Even though I have a load of books on my bookshelf unread, I continue to covet new ones. Someone send help!
This book is one that recently made its way into my to-read shelf on goodreads – purely because the cover attracted me! I'm not sure if it's the colours or the way the white burst makes the title stand out so boldly, but I'd be picking it up if I saw it on a shelf.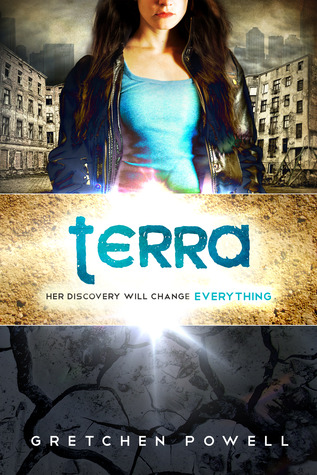 Title: Terra (Goodreads)
Author: Gretchen Powell (website)
Series: Terrestrials #1
Genre: YA post-apocalyptic sci-fi
Published: Hopewell Media, December 2012
Goodreads Blurb for Terra: In the distant wake of a plague that has decimated the Earth's population, humanity is split in two: The rich and powerful live in skycities that float overhead, while those who remain on the ground have gathered in settlements strewn across a dying planet. Eighteen-year-old Terra Rhodon is a terrestrial–a denizen of the barren groundworld–who makes her living as a scav. Long abandoned by her father, her caregivers gone, Terra supports herself and her younger brother, Mica, by scouring the earth for discarded scraps and metals to recycle for profit.
One day, while on a routine scavenging run, she discovers something that shocks her home settlement of Genesis X-16. When the value of her discovery is revealed, Terra's world is turned upside down. Terra suddenly finds herself asking questions no one will answer. Her search for the truth leads her to Adam–a beguiling skydweller unlike any she has ever met. But Adam has secrets and a quest of his own, and with him by her side, the world Terra thought she knew begins to unravel. Soon her discoveries unearth a terrifying conspiracy that has the potential to shatter everything–a revelation that will test the bonds of loyalty, family, and love.