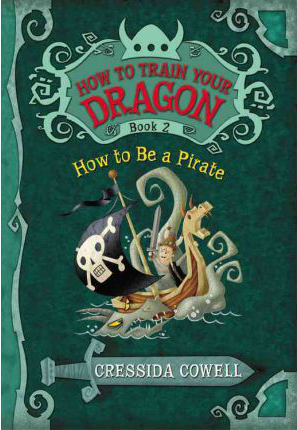 Title: How To Be A Pirate (Goodreads)
Author: 

 Cressida Cowell
Rating: 

Series: How To Train Your Dragon Book 2 of 9
Genre: Childrens Fantasy
Published: Little, Brown and Co, 2004
Pages: 211
.
Paper copies: Amazon.com • Amazon.co.uk • Book Depository
Not available as an e-book.
Hiccup is a Viking and a member of the Hooligan tribe. When Hiccup and his fellow classmates and their pet dragons are taking part in Pirate Training, a huge storm wrecks their ship and washes them, and a strange coffin onto the shore. Could this coffin hold the treasure of the legendary Grimbeard the Ghastly, the greatest pirate who ever struck Terror into the Inner Isles?
Review
You may have seen the movie version of the first book in the series, How to Train Your Dragon. I borrowed this second book in the series, thinking it would continue the story on from the end of the movie.  In fact, the movie version was changed quite a bit from the original story. The vikings don't ride the dragons as they are way too small. Hiccup speaks to Toothless (who really doesn't have any teeth) in Dragonese. The characters names are there but the characters themselves seem quite different.
That aside, How to Be a Pirate is a very cute story. Almost every page has a little sketch illustration from the author that littlies are sure to love. While the movie version of How To Train Your Dragon was a more grown-up story of adults trying to protect their homes and families, the adult vikings in the books are much more silly and cartoonish, with plenty of fart jokes in there with the adventure.
I must hunt down the other books in the series (this copy came from the library) – I have a little boy who I am sure is going to love these in a few years time.
Read this book to your little 'uns? Yes, they will love it!