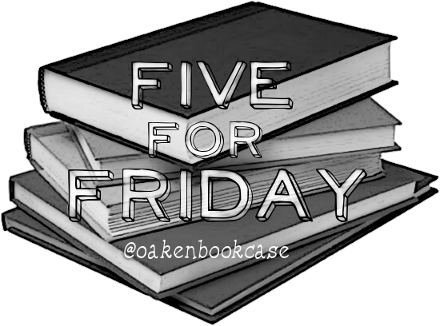 It's Friday! That means it's time for Five Things.
This week:
Five books on my to-read pile that I'm really looking forward to reading.
Books that I actually have a copy of, that I look forward to reading once I get through a few review copies!
1. Tigana, Guy Gavriel Kay
Eight of the nine provinces of the Peninsula of the Palm, on a world with two moons, have fallen to the warrior sorcerers Brandin of Ygrath and Alberico of Barbadior. Brandin's younger son is slain in a battle with the principality of Tigana, which the grief-stricken sorcerer then destroys. Years later, a small band of survivors, led by Alessan, last prince of Tigana's royal house, wages psychological warfare, planting seeds for the overthrow of the two tyrants.
I received a paper copy of Tigana this week as a Random Act of Kindness from Cait of Escape Through the Pages. Thanks! I've heard great things about this book and I can't wait to read it.
.
2. The Iron King, Julie Kagawa
Meghan Chase has a secret destiny; one she could never have imagined. Something has always felt slightly off in Meghan's life, ever since her father disappeared before her eyes when she was six. She has never quite fit in at school or at home.
When a dark stranger begins watching her from afar, and her prankster best friend becomes strangely protective of her, Meghan senses that everything she's known is about to change.
Once again, the reputation of this series precedes it. I only have the first book but I'm willing to get my hands on the others if it lives up to the hype.
.
3. Pyxis, K. C. Neal
Corinne lives an average teenage life working at her dad's cafe, hanging out with her best friend, and trying to forget a falling-out with her almost-boyfriend Mason. Things take a strange turn when she uses her late grandmother's food dyes for a bake sale, and her customers suddenly find her irresistibly alluring.
All the reviews I've read say that Pyxis is brilliant. Also, KC Neal is one of the friendliest twitterers you're likely to meet!
.
4. Everneath, Brodi Ashton
Last spring, Nikki Beckett vanished, sucked into an underworld known as the Everneath, where immortals Feed on the emotions of despairing humans. Now she's returned- to her old life, her family, her friends- before being banished back to the underworld… this time forever.
She has six months before the Everneath comes to claim her, six months for good-byes she can't find the words for, six months to find redemption, if it exists.
There seems to be a recurring theme here – everyone's read it, everyone says it's great! I got this copy as a RAK from Ladystorm last week, thanks!
.
5. Exiled, M. R. Merrick
Chase Williams is a demon hunter in the Circle, or at least he was supposed to be. On his fifteenth birthday, Chase stepped up to the altar to claim his elemental power, but it never came. Elemental magic is passed down to a hunter through the bloodline, but on Chase's birthday, the bloodline stopped.
Exiled without the Circle's protection, Chase has spent two years trying to survive a world riddled with half-demons and magic.
I got Exiled when it was free a couple of weeks ago, and it looks awesome.
.
There seems to be a bit of a young-adult theme going on this week – at least the YA books tend to be slightly shorter and lighter going than the high fantasy tomes.
Are there books on your to-be-read pile that are calling out to you?