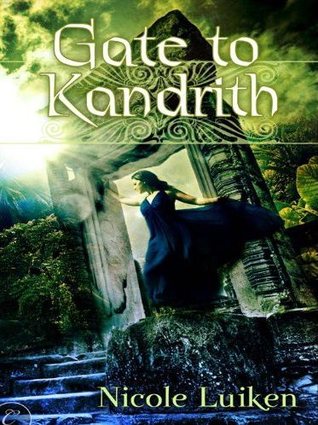 Title: Gate to Kandrith (Goodreads)
Author: 

  Nicole Luiken (@NicoleLuiken)
Rating: 

Series: Kandrith 1 of 2(?)
Genre: Adult High Fantasy/Romance
Published: Carina Press, March 26, 2012
My copy: Ebook ARC from NetGalley
Pre-order an E-copy: Amazon.com • Amazon.co.uk • Barnes & Noble • Diesel eBooks
Sarathena Remillus, daughter of the newly elected Primus of the Republic of Temboria, has been given a mission: discover the secret of slave magic. Anxious to escape the corruption and treachery of the capital, Sara welcomes the chance to finally prove herself far away in Kandrith, the tiny nation of former slaves.

Accompanying her on the journey is Lance, a Kandrithan to whom Sara owes her life. Lance despises the nobility, and is determined to resist his desire for Sara, despite her attempts to entice him into divulging the secret of his magic. (Goodreads)
Review
Gate to Kandrith drew me in from the very first chapter and didn't let go. The story moves along at a cracking pace, introducing elements of romance right away and weaving them around an interesting society and world.
The countries of the Republic and Kandrith are very different. The Republic is ruled by a Primus who has seized power, attended by a court of nobles with slaves to serve them. Kandrith was founded by escaped slaves, headed by one chosen by the Goddess of Mercy and protected by magic. Kandrith is rather utopian –  even though they do have a fairly fool-proof justice system in the "Listeners" who cannot hear lies, surely even in a nation of escaped slaves there would be someone ambitious enough to seize power? In any case, it sounds like an idyllic place.
The magic system used by the slaves is based on sacrifice – you must give up something in order to receive power. I like systems like this where balance is preserved more than those where magic is freely available to be used. It seems more realistic to me – as realistic as magic can be, anyway.
When this book is described as "adult fantasy", it's not wrong – right from the first chapter we're introduced to jazoria, a drug that increases desire against the victim's will. There's quite a few raunchy and violent scenes throughout the book, and I can't help feeling that these scenes may prevent the book from reaching as wide an audience as it might otherwise have. Not that I didn't enjoy the romance – Sara and Lance are rather swoon-worthy!
The characters were, perhaps, a little shallow. That didn't stop them from being likable though. It was great to see Sara's journey as she discovered that there were ways to live other than how she had been raised in the Republic. Lance was just a total sweetheart! Absolutely no complaints there, I loved him.
Gate to Kandrith was a brilliant read and was very difficult to put down.  It will be tough to wait for the next book to come out to find out what happens next!
Read this book to your little 'uns? Absolutely not! Contains some grisly deaths, graphic adult scenes, rape and torture.