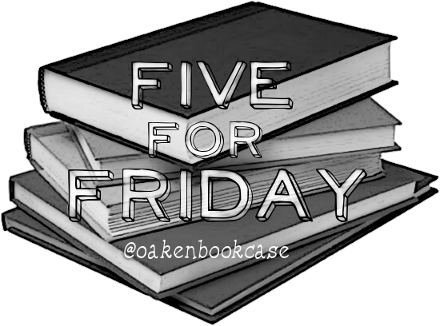 It's Friday! That means it's time for Five Things.
Last night, I went to see The Hunger Games at the movies. I thought it was brilliant – it stayed very true to the book, unlike many book-to-movie conversions. You can see my review for The Hunger Games book over at Once Upon A Time. I'm trying to avoid story spoilers here!
Here are my five things for this week:
Five things about the Hunger Games Film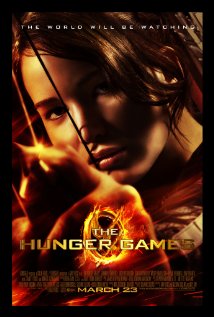 1. The casting was brilliant.
Each character was pretty much how I imagined they would be, or I was comfortable with how they were portrayed. You know how sometimes characters in book movies rub you up the wrong way and you spend the whole time thinking, "No, this is wrong!"? Well, not with this movie. Haymitch was a little different to how I imagined him though. I thought of him as more of a fat, drunken slob – he seemed quite personable in the film.
2. Changing points of view.
In the book, the point of view stays with Katniss the entire time. The only clues we have about what's going on outside of the arena is from her thoughts about what might be happening. It's interesting to see how they dealt with the fact that we don't have access to her thoughts in a movie format. To explain aspects of the story, we are shown what's going on in the Games control room and outside in the districts.
3. The movie cut out the parts of the book that I least liked.
My main problem with the book was that I disliked the whole "pretend love story" thing between Katniss and Peeta. In the movie, we can't tell what Katniss' actual thoughts are about Peeta. We don't know that she was playing up for the cameras, so instead of coming across as ruthless and kind of manipulative, her attraction to him seems genuine. I really liked that!
4. It's hard to squeeze a whole book into two hours.
Two hours seemed too short to do proper justice to the horror that was the arena itself, but no-one would go to see a nightmarish movie that went all day, would they? If you read my review of the book version of The Hunger Games, you know that as I read it I spent the whole time being terrified and anxious for the characters. Even though I knew what was going to happen this time, I was just as anxious watching the movie than I was while reading the book, and I had the same feeling of relief when it was all over. That has got to be the mark of a great film.
5. I'm on Team Gale.
Even though I think Peeta is a sweetheart, I have to feel for Gale. In the books he comes across as being quite aloof and taciturn, but we see more of him in the film and well… that's a good thing. I might be biased by Liam Hemsworth being an Aussie!
If you get a chance, go and see The Hunger Games on the big screen! Here's the trailer to whet your appetite.
 Have you seen it? What did you think?