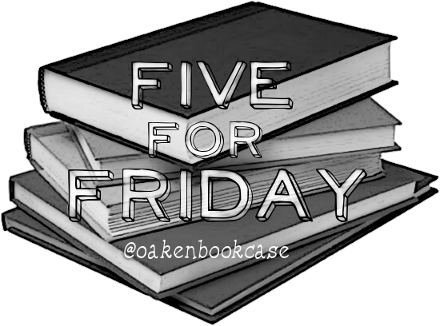 It's Friday!
It's been a while since I've had a chance to post a Friday Five. I visited the library this morning with my little boy and found a couple of the most beautiful children's books that I wanted to share. If you have any favourites that I haven't mentioned, please add them in the comments! I'd love to hear some suggestions.
This week:
Five Beautiful Children's Books
1. Varmints, Helen Ward & Marc Craste
Amazon.com • Amazon.co.uk • Book Depository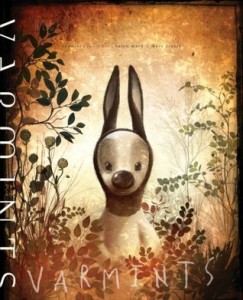 The most overlooked threat in the world is the loss of peace and quiet. Can someone find the time and space to stop, think and plant the seeds of change?
There aren't many words in this book, but the pictures are each a work of art. I could spend hours just looking at each page.
After looking this book up I found out that Helen Ward wrote this story for the filmmaker Marc Craste to make into a thirty-minute film.
Here is the trailer:

Amazon.com • Amazon.co.uk • Book Depository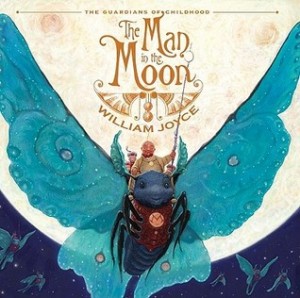 Up there in the sky. Don't you see him? No, not the moon. The Man in the Moon. He wasn't always a man. Nor was he always on the moon. He was once a child. Like you. Until a battle, a shooting star, and a lost balloon sent him on a quest. Meet the very first guardian of childhood. MiM, the Man in the Moon.
The Man in the Moon is another book with beautiful illustrations. I didn't get a chance to read all of this one at the library (my son likes to pull all the other books off the shelves), but once he's a bit older I'll have to borrow this one out for a proper read. Apparently this book is a prequel of sorts to William Joyce's other books for slightly older children, such as Nicholas St. North and the Battle of the Nightmare King, so perhaps this would be a great gateway book into other fantasy for children.
Amazon.com • Amazon.co.uk • Book Depository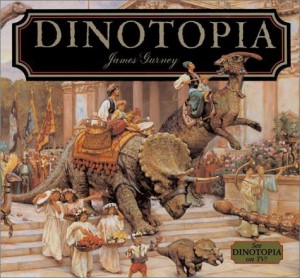 In the year 1860, biologist and explorer Arthur Denison and his son, Will, set out on a sea voyage of discovery and adventure. When a powerful typhoon wrecks the ship in uncharted waters, Arthur and Will are the sole survivors. Washed ashore on a strange island called Dinotopia, they are amazed to find a breathtaking world where cities are built on waterfalls, people have found new ways to fly, and humans and dinosaurs live together in harmony.
We had a copy of Dinotopia when I was small and I remember poring over the beautiful illustrations way after I was too old to be reading picture books. An imaginative world where sentient dinosaurs live and work with humans?  Yes please! At 160 pages, this book is slightly longer and might appeal more to the 7-10 age group.
Dinotopia was made into a mini-series for television in 2002. There are also plenty more books and computer games about Dinotopia!
Amazon.com • Amazon.co.uk • Book Depository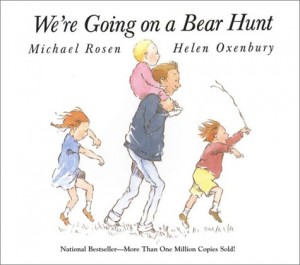 We're going on a bear hunt. We're going to catch a big one! I'm not scared! What a beautiful day…
My mum used to sing We're Going on a Bear Hunt to us when my siblings and I were little. I was so happy to find this book version of it, complete with beautiful watercolours for each obstacle the bear hunters face! It's a catchy rhyme, too (even if the subject material of pretending to hunt bears is a little dubious).
Amazon.com • Amazon.co.uk • Book Depository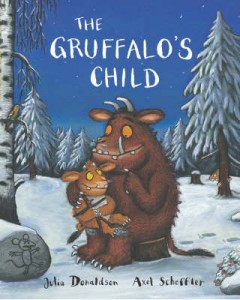 The Gruffalo said that no gruffalo should
Ever set foot in the deep dark wood.
"Why not, why not?" "Because if you do,
The Big Bad Mouse will be after you!"
These two books are new to our family, but my son loves to look at the beautiful pictures. The rhyming stories in each book are gorgeous – they have great rhythm and are lovely to read aloud. Sadly, they're a little too wordy for my little one just yet! I'm sure he'll appreciate it a little more once he understands the stories, but they're already favourites around here.
The ABC (in Australia) recently screened a half-hour animated version of The Gruffalo's Child. It was brilliant! Voiced by the likes of Helena Bonham Carter and Robbie Coltrane, it might be slightly scary for the very little ones but I thought it was gorgeous. If you get a chance to see it, do!
Do you have any favourite beautiful childrens books? Please, share!