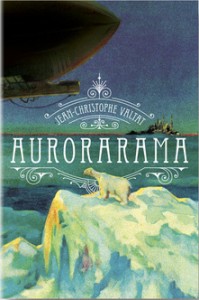 Title: Aurorarama (Goodreads)
Author:

 Jean-Christophe Valtat (@theValtat)
Rating:





1908. New Venice–"the pearl of the Arctic"–a place of ice palaces and pneumatic tubes, of beautifully ornate carriage-sleds and elegant victorian garb, of long nights and vistas of ice.
But as the city prepares for spring, it feels more like qaartsiluni–"the time when something is about to explode in the dark." Local "poletics" are wracked by tensions with the Eskimos circling the city, with suffragette riots led by an underground music star, with drug round-ups by the secret police force known as the Gentlemen of the Night. An ominous black airship hovers over the city, and the Gentlemen are hunting for the author of a radical pamphlet calling for revolt.
Their lead suspect is Brentford Orsini, one of the city's most prominent figures. But as the Gentlemen of the Night tighten the net around him, Orsini receives a mysterious message from a long-lost love that compels him to act.
Details
Series: 1 (of 2 at present)
Genre: Steampunk, Science Fiction
Published: First published by Melville House, August 2010. Paperback version published May 1, 2012.
Pages (paperback edition): 432
My Copy: Digital ARC for review from Netgalley.
Paper copies: Amazon.com • Amazon.co.uk • Book Depository
E-copies: Amazon.com • Amazon.co.uk • Barnes & Noble
Review
New Venice, the utopian city high in Arctic Canada, is protected from sub-zero temperatures by some kind of technological wizardry. The dark days of winter when the sun does not rise are made more bearable by the liberal use of "psylicates" drugs and alcohol, plus plenty of free and liberated love.
But all is not well in the city. Tensions simmer between the native inughuit people and the white "qallunaut" inhabitants of the city, and between the ruling council and revolutionaries.
Valtat is a brilliant storyteller – the twists and turns of this story kept the pages turning all the way through. The style of writing often requires concentration – sentences often run on and on, separated by numerous commas, but always sparkling descriptions and brilliant imagery. He also loves to make up new words in a rather Shakespearean way – there's a whole range of jargon the citizens of New Venice use, from "poletics" to "anarchitecture".
I have no knowledge of Inuit culture so have no idea whether the representations of it in Aurorarama are accurate, but the legends and descriptions of the Inuit way of life give a lot of extra colour to the cast of characters and Valtat certainly gives the impression that he knows what he's talking about.
There were a few aspects of the story that I found a little baffling. The characters make references to some major disaster that befell the city long ago called the "Blue Wild", but this is never described in any detail. Also, who is Helen? We never really find out, even though several of the characters seem to have had dealings with her at one time or other. It's almost as if there was a previous book that I missed reading first, but this is the first in a new series.
There were formatting problems all through my digital ARC copy which I hope would be resolved in the final e-book versions, but because there are several sketches scattered through the book, I'd recommend a paper copy if you're thinking of reading this book. Sketches don't translate well to a Kindle screen!
Aurorarama is an amazing work with beautiful descriptions of the Arctic and Steampunk city scenery, plus plenty of action. Fans of Steampunk and of Fantasy will love it. I'll certainly be trying to get my hands on the second in this series, Luminous Chaos, due for publication in October, 2012.
Warnings: Suggestive sexual content and drug use.
What did others think of Aurorarama?