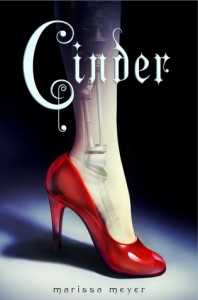 Title: Cinder (Goodreads)
Author: 

 Marissa Meyer (@marissa_meyer)
Rating:





Humans and androids crowd the raucous streets of New Beijing. A deadly plague ravages the population. From space, the ruthless lunar people watch, waiting to make their move. No one knows that Earth's fate hinges on one girl…
Cinder, a gifted mechanic, is a cyborg. She's a second-class citizen with a mysterious past, reviled by her stepmother and blamed for her stepsister's illness. But when her life becomes intertwined with the handsome Prince Kai's, she suddenly finds herself at the center of an intergalactic struggle, and a forbidden attraction. Caught between duty and freedom, loyalty and betrayal, she must uncover secrets about her past in order to protect her world's future.
Details
Series: Lunar Chronicles #1 of 4
Genre: YA Science fiction
Published: Penguin Australia (Puffin in the UK, Feiwel and Friends in USA), January 2012
Pages (paperback): 387
Paper copies: Amazon.com (hardcover) • Amazon.co.uk • Book Depository
E-copies: Amazon.com • Amazon.co.uk • Barnes & Noble
The Prequel
Are you aware that there's a free prequel for Cinder? It's available on the Tor website – go and have a read! It's called Glitches and tells the story of when Garan first brought Cinder home to live with the Linh family. It's definitely worth a read before you read Cinder, and even afterwards as well. Glitches is also listed on Goodreads.
Review
Cinder is loosely based on the fairytale of Cinderella, so I was expecting to enjoy this book before I started. And enjoy it, I did! The fast-paced story drew me in completely and I read the whole thing in one day as part of the Bout of Books.
Cinder is a young mechanic, living in New Beijing at some point in Earth's future, and working to fuel the spending habits of her stepmother. After her sister contracts the strange plague that is spreading throughout the population, Cinder's stepmother blames her and has her taken away as a cyborg "volunteer" to be a test subject for the plague cure research. There are plenty of twists and turns in this story right up to the end, to keep the reader on their toes.
I loved the Cinderella aspects and tie-ins, and cheered when Cinder actually shouted back at her stepmother! She is no shrinking violet servant-girl – but she did still seem to be in a disadvantaged position compared to her step-sisters.
I also enjoyed reading about the future of the world, with the Commonwealth of Nations and the Lunar civilisation on the Moon. I was rather pleased to hear that Australia gets to keep our own country after the wars! Actually, it's kind of refreshing to read a YA sci-fi that isn't set in a dystopian society. I'm looking forward to seeing how the politics continue through the series.
The romantic part of the story was very swoon-worthy but not overwhelmingly so. Prince Kai seems like a complete sweetheart, although I'm not sure why he would be allowed to roam around the city centre on his own when there are people dropping from the plague all over the place. In any case, I'm looking forward to the next book for Kai and Cinder's story to continue, since we are left hanging a little bit at the end of Cinder.
Even though this story is futuristic, the science part of it isn't overwhelming. In fact, sometimes there isn't a lot of description at all – I went through most of the story picturing the robots as Marvin-types (the TV series version) because they are hardly described at all. There is some discussion of genetics and physiology but everything is explained very well. I'd happily recommend this book to people who don't usually like Sci-fi.
The next book in the Lunar Chronicles, Scarlet, is due for release in February 2013 – I can't wait to find out what happens next!
No warnings: It's squeaky clean.
What did others think of Cinder?