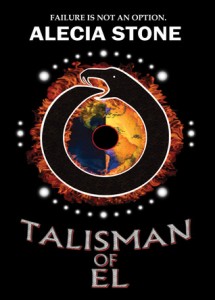 Title: Talisman of El (Goodreads)
Author: 

 Alecia Stone (@Alecia_Stone)
Rating:





When 14-year-old Char­lie Blake wakes up sweat­ing and gasp­ing for air in the mid­dle of the night, he knows it is hap­pen­ing again. This time he wit­nesses a bru­tal mur­der. He's afraid to tell any­one. No one would believe him … because it was a dream. Just like the one he had four years ago – the day before his dad died.
Details
Series: Talisman of El #1 of 3
Genre: Middle-grade/Young Adult Fantasy/Mythology
Published: Centrinian Publishing, May 20, 2012.
Pages (hardcover): 364
My copy: Digital ARC from Netgalley
Paper copies: Amazon.com (hardcover) • Amazon.co.uk • Book Depository
E-copies: Amazon.com • Amazon.co.uk • Barnes & Noble
Review
Charlie is a fourteen-year-old orphan who has just moved into a new foster home. His sleep is plagued by strange dreams, but things start to get really strange when he finds out that the events of his dreams have actually happened. The story draws Charlie and his friends into a strange underground world populated by angels, elementals and demons and sets him on the path towards finding out who he is and why he has these strange dreams.
Talisman of El has an amazing premise – a returned King set to restore an ancient amulet and to save mankind from destruction. The exciting and dramatic scenes are great, and the plight of the orphaned boys really pulls at the heartstrings. Unfortunately, there was just something about the story that prevented it from being the epic read that it sounded like it could have been.
The main problem I have with Talisman of El is that there is a lot of detail. The mythologies that Charlie, Derkein, Alex and Richmond encounter are very complicated and terminology is thrown out all over the place. I had to keep going back in the story to check descriptions to keep up with what was going on, and that's not so easy on a Kindle. I'm just a little concerned that younger readers will have trouble following all the ins and outs of the worlds, the elements, the angels and all the systems described.
I'm not sure if it's the amount of explanation, but the story didn't flow well for me. The story sometimes jumped forwards in time within the same chapter, as though a few minutes of the story had been cut out. This wasn't made easier to deal with by a few formatting issues in the Digital ARC I read, but occasionally I was confused as to what just happened and had to go back and check.
Despite these issues, Talisman of El was an exciting read and a great debut for Alecia Stone. I will be interested to see how Charlie's story continues in the next part of the series.
No warnings: It's squeaky clean.