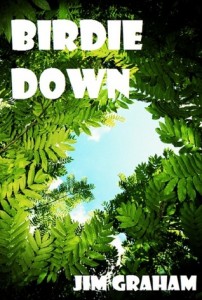 Title: Birdie Down (Goodreads)
Author: 

 Jim Graham (@jimsgraham)
Rating:





The Outer-Rim rebellion stumbles into its second day …and in the wrong direction.
The third generation residents of the resource-rich New Worlds are seeking to throw off the yolk of corporate rule. Ex-Resource War veteran, Sebastian Scatkiewicz and his colleague, Andrew 'Birdie' Goosen, have dared to take on the biggest company of them all. Hot from attacking the Lynthax Corporation head offices on Trevon and then on G-eo they're planning to attack a third. But there's friction in the rebel camp. Scat's ignoring the advice of colleagues. His personal beef with Jack Petroff, Lynthax's head of security, is affecting his judgement; his friends and political masters are doubting his motives; and the loyalty of the newest recruits is far from certain…
Details
Series: Stand alone, but carries on from Scat
Genre: Science fiction
Published: Smashwords, 19 February, 2012
My Copy: From the Author for review, thanks!
Paper copies not available.
E-copies: Amazon.com • Amazon.co.uk • Barnes & Noble • Smashwords
**Birdie Down is currently free from all vendors. No excuses not to grab a copy! **
Review
Birdie Down is a guns-blazing tale of a group of rebels in the Outer Rim, taking on the Lynthax Corporation. Scatkiewicz (or "Scat") and his crew have hijacked a ship and attacked Corporation facilities on two worlds and are chased to a third. A group of rebels, led by Andrew "Birdie" Goosen, has crash landed a shuttle into the swampy jungle on the planet below. They must not only survive the Corporation forces searching for them, but also all the nasties that an alien world can throw at them.
Apparently this book was written for fun in only five weeks – if that is the case then Jim Graham has done a great job in a very short time. The start of the story thrusts the reader right into the action and there's little time for character descriptions, but as the story moves on we get to know the crew better. Once the attack begins on Constitution, the action is exciting and non-stop, with plenty of alien creatures and gory bits.
This story is perfect for lovers of gritty sci-fi and fans of space opera will love it.
Warnings: Graphic violence, but not enough swearing for my tastes!