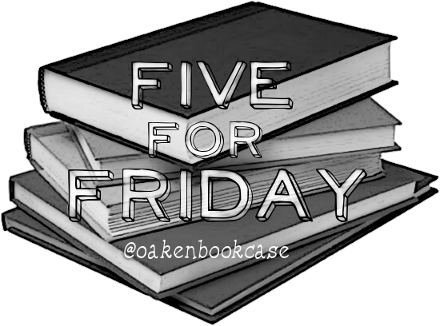 The Oaken Bookcase has been open for three months now, and what a busy three months it has been! I still consider myself a total newbie in this, but I've read so many great books and met some lovely people along the way. I thought I'd share a few things I've learned by chucking myself in the deep end with book blogging.
Five things I've learned as a Book Blogger Newbie
1. Getting snowed under is easier than you think.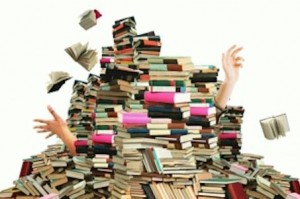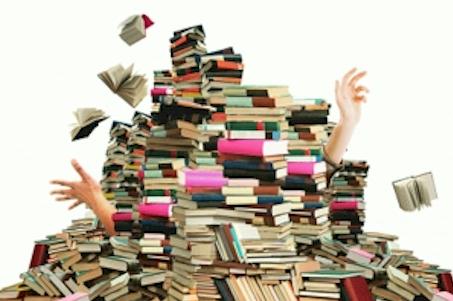 When I first started out, I wanted to gather ALL THE BOOKS. I found the free bestseller lists on Amazon and went nuts with downloading free books to my Kindle, and once I worked out how to use Netgalley I requested a load of ARCs from there as well. It only took a couple of weeks before a couple of authors approached me to read and review their books – I was so excited, but when I looked at my growing to-read list, I was pretty daunted. Then I went to the library and it all went downhill from there.
Pretty soon I was feeling overwhelmed with the number of books I had to read by a certain date (for the releases of ARC books), plus the books I had recieved from authors – there was no time to read the books that I had wanted to read back before I started blogging!
I'm still trying to sort through and rationalise my to-read pile. It's important to realise that there's a limit to the number of books you can read and review in a certain amount of time. After a while, you get a feel for how many books you can comfortably read in a week. I can't stress enough how important it is to be organised.
Make lists, use a calendar, stick post-its all over your walls – do whatever you need to do to visualise the books you have for review, when you plan to read them and when you need to post the reviews. It helps to rationalise your workload and help you to feel a little less snowed-under. I'm still working on that.
2. Embrace the Social Media
Social media is the best and (arguably) the easiest way to market your blog. There are so many sites now that it can all get overwhelming pretty quickly, so I suggest picking a list of a few that you're comfortable with and stick with those, at least to start with. Twitter is the best networking tool as you'll easily find hundreds, if not thousands of bloggers, authors and publishers to follow and interact with. Here are a few others to consider using:
There was plenty more information on how to set up these and more social media sites in the mini-challenges for the Bloggiesta that was held back in March.
3. Authors don't bite (usually)
The first time an author retweeted my review on Twitter I was terrified! They're actually reading my stuff! I hope I didn't say anything too awful! After following authors on twitter and through their blogs, I'm reminded that their book is their baby and they could be mortally devastated if anything nasty is said about it. That doesn't mean we shouldn't be writing critical reviews! Just remember to be respectful and tactful.
I am still pretty shy when it comes to interacting with authors in general, but I'm pretty sure they like to hear feedback so I need to remember to tell them I enjoyed their work more often.
Publishers… now I'm not sure whether they bite or not, but I'm almost ready to work up the courage to request some review copies to find out!
4. Community events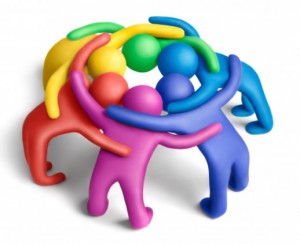 I recently participated in the Bout of Books read-a-thon. I saw so many new blogs, spoke to new people on twitter and put new books on my to-read list, and it was great fun! Participating in community events like this increases your exposure and gives you new blogs to follow as well. This also goes for Giveaway hops such as those I Am A Reader, Not A Writer hosts, but they tend to drive a lot of one-time traffic. Hopefully a few hang around to be actual lasting readers.
I keep reminding myself that while these events are great for getting those follower numbers up to look good on Netgalley and (eventually) for wooing publishers, it's real readers that make writing a blog worthwhile. Getting those is a lot tougher, but adding content and meaningful networking goes a long way towards impressing people enough that they subscribe and read your posts.
5. Discovered my own style and reading habits
This whole blog-creating process has not only changed my blogging style (which I hope is improving over time!), but also helped me to find what books I most enjoy reading. Over the last few years I've barely read any books that weren't already on my shelves, and last year I didn't read much at all while I was at home with my baby son. This year, I've rediscovered the Young Adult and Middle Grade age groups and I've got to say I'm loving them! The adult books I've read recently have been very dark and gritty and not always particularly enjoyable. YA and MG books are free of most of those darker adult themes and in fantasy books, I think that makes for a much more enjoyable read.
I've learned a lot more over the last three months than just these five things, but I hope these things will be useful to someone starting out in the blogging world! If you have any more tips for newbies do please leave a comment. Also, if you have any questions please get in touch, I'd be happy to help!