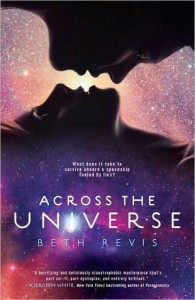 Title: Across the Universe (Goodreads)
Author: 

 Beth Revis (@bethrevis)
Rating:





A love out of time. A spaceship built of secrets and murder.
Seventeen-year-old Amy joins her parents as frozen cargo aboard the vast spaceship Godspeed and expects to awaken on a new planet, three hundred years in the future. Never could she have known that her frozen slumber would come to an end fifty years too soon and that she would be thrust into the brave new world of a spaceship that lives by its own rules.
Amy quickly realizes that her awakening was no mere computer malfunction. Someone-one of the few thousand inhabitants of the spaceship-tried to kill her. And if Amy doesn't do something soon, her parents will be next.
Details
Series: Across the Universe #1 (of 3)
Genre: Young Adult Science Fiction
Published: Razorbill, January 2011
Pages (paperback): 394
Paper copies: Amazon.com • Amazon.co.uk • Book Depository
E-copies: Amazon.com • Amazon.co.uk • Barnes & Noble
Review
Across the Universe is a romance, a murder mystery and an examination of society all set on a space ship bound for a distant planet.
The chapters alternate between Amy's and Elder's points of view, and this gives us the full spectrum of how each of them is feeling about the other's presence. The way the society on board the Godspeed has changed in the 250 years since leaving earth is very interesting and imaginative, with an evolved class system and their own legends and history. Earth is just an ancestral story to these people.
The situation Amy finds herself in when she is unfrozen from her cryogenic sleep is a horrifying one – woken up too early into a ship where she knows no-one, and she is told she won't see her parents or anything outside of the ship for fifty years. I'm sure most people would go a little crazy after hearing that news, and Amy is no exception.
The story flows very well and I read the second half all in one night because I couldn't bear to put it down. I enjoyed reading it in the same way as I enjoyed The Hunger Games – terrified and waiting for something horrible to happen the whole time.
There were a couple of things that bothered me about the story, though. This next section is a little spoilery so if you'd like to see it, highlight the text in the space below:
If the ship was in space, why would the engines need to be on all the time? There's no reason why the ship should be losing speed. Surely after they left Sol-Earth's gravitational influence they could just point the ship in the direction they want to go and turn the engines to idle? 
Also, the romance between Elder and Amy was a little weird. It seemed like he was only attracted to her because she was so different, but Amy wasn't weirded out by that at all – despite all that is going on on the ship, she is still open to a bit of romance. That completely baffled me, but perhaps it's been too long since I was a teenage girl!
Overall, Across the Universe was a very interesting and tense read. I would really like to get my hands on the second in the series, A Million Suns, mostly just to see what they are going to do next. This one is recommended for fans of young adult Dystopia!
Warnings: Violence, sex scenes, rape triggers.