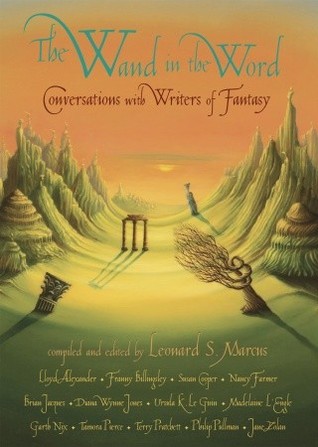 Title: The Wand in the Word: Conversations with Writers of Fantasy (Goodreads)
Author: 

 compiled and edited by Leonard S Marcus
Rating:





In a series of incisive interviews, Leonard S. Marcus engages thirteen master storytellers in spirited conversation about their life and work, providing inspiring reading for fantasy fans and future writers alike.
Finely nuanced and continually revealing, Leonard S. Marcus's interviews range widely over questions of literary craft and moral vision, as he asks thirteen noted fantasy authors about their pivotal life experiences, their literary influences and work routines, and their core beliefs about the place of fantasy in literature and in our lives.
Details
Series: Stand alone
Genre: Non-fiction, interviews with Fantasy authors
Published: Candlewick Press, 2006
Pages (Hardcover): 202

Paper copies: Amazon.com • Amazon.co.uk • Book Depository
Not available as an e-book.
Review
The Wand in the Word consists of thirteen interviews with writers of Fantasy, including Lloyd Alexander, Franny Billingsley, Susan Cooper, Nancy Farmer, Brian Jacques, Diana Wynne Jones, Ursula K. Le Guin, Madeleine L'Engle, Garth Nix, Tamora Pierce, Terry Pratchett, Philip Pullman and Jane Yolen.
The questions asked during each interview vary, but range from descriptions of childhood to what their typical writing schedule is like, and revealing questions about characters from each writer's works.
I picked this book up at the library purely by chance as I was passing the non-fiction shelves and I'm so glad I did! Not only does it include some of my favourite authors, it has given me a few more books to add to my reading list.
The interview answers are a lot more candid than the usual dry author bio descriptions and we're given fascinating insights into the lives of these people. For example, Lloyd Alexander tells of serving during World War II, while several of the other authors were children during this time. Quite of few of them speak of their influence from JRR Tolkien, and one or two of them even studied under him at Oxford University, but then almost all of them go on to say that they have written stories very different to Tolkien's.
Each author offers their advice on writing and how the people in their lives encouraged them to persevere. Did you know that L'Engle's A Wrinkle in Time was turned down by publishers twenty-six times?!
The style differs from interview to interview, which gave me the feeling that the interviews were written rather than conducted face-to-face. They read easily and are engaging and I do recommend reading all the way through to Jane Yolen's – it's really quite funny!
The Wand in the Word is a very enjoyable read for fans of the Fantasy genre and contains valuable advice for those who wish to write Fantasy stories.