Welcome to The Oaken Bookcase's stop on the Kingdom Blog Tour! You can see all the other stops at Once Upon A Time. Don't forget, you can still enter the giveaway for a Kindle Fire until July 3rd!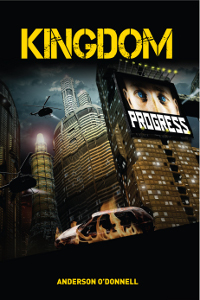 Title: Kingdom (Goodreads)
Author: 

 Anderson O'Donnell (@TiberCityNoir)
Rating:





In a secret laboratory hidden under the desert, a covert bioengineering project—codename "Exodus"—has discovered the gene responsible for the human soul.
Somewhere in the neon sprawl outside the nation's collapsing economic core, a group of renegade monks are on the verge of uncovering a secret that has eluded mankind for centuries.
Details
Series: Tiber City #1
Genre: Adult Science Fiction/Dystopia
Published: Tiber City Press (Indie), May 2012
My Copy: From Author for blog tour
Paper copies: Amazon.com • Amazon.co.uk • Book Depository
E-copies: Amazon.com • Amazon.co.uk
Review
Late in the twentieth century, a biotechonology company in the Chihuahuan Desert has been secretly carrying out genetic experimentation on local illegal immigrants and other vulnerable members of society. When Campbell, one of the geneticists working on the Exodus project, discovers just horrors his partner has been working on in the dungeons of the desert complex, he flees into the night. He is rescued and finds absolution with a sect of monks studying the human soul. Curiously, the two research projects are linked and opposed.
Fast forward to a near dystopian future, and Dylan is haunted by horrifying nightmares of his father's suicide. There's something very wrong with the candidate Biotech company are backing for the Senate – why does he have Dylan's father's eyes?
Kingdom is certainly not for the faint-hearted. This dark and gritty story is full of the angst of human existence.
O'Donnell brings Tiber City to life in glorious, and sometimes horrible, detail. I really loved the richness of the world and the lyrical writing style, but sometimes it was quite overwhelming in its bleakness and despair. But underneath all the suffering is a search for the Omega gene – a natural part of the human genome which allows a link to the divine. I found this aspect of the story fascinating – that there's a genetic part of us that determines our ability to feel extreme emotion, whether religious or otherwise.
Kingdom is the first in a planned trilogy. If you like reading gritty dystopian stories, this book is for you. I found it amazing, but boy, did I need something a bit lighter to read afterwards!
Warnings: Explicit sex and drug use, plenty of swearing and graphic violence.