It's time for a look back over the past week, and to see what's coming up. This feature is based on the original Clock Rewinders on a Book Binge.
Last Week on the Bookcase
So, this week is my Six-month Blogaversary! I'm not doing anything in particular to celebrate, but I did get a very nice surprise in that I have been nominated as a Top 25 Book Blogger for 2012 on SkinnyScoop! Even though I'm a little overwhelmed to be in there with the likes of I Am A Reader, Not A Writer, and the lovely Giraffe Days, I'm so pleased that at least one person seems to have enjoyed reading my reviews! If you have a few moments, I'd love it if you could visit the list and vote for The Oaken Bookcase. Thanks!
Now that I've reached six months on this blog I'd like to say a big thanks to everyone who has supported me and this blog so far, especially my girls Philippa, Hannah and Leila, plus everyone who helped to make the Aussie Fantasy month a success in July!
This week coming is the Bout of Books 5.0! I've put my list of goals up early this time so that I can get organised. Have you signed up yet? You don't have to have a blog to take part, and it's very low-pressure.
I also posted a Five for Friday this week – Five Methods of Escape into fantasy worlds, in which I ponder Tolkien's Eucatastrophe and list some of my favourite escapes.
Reviews:
Around the Community
Anya of On Starships and Dragonwings has now made the move to self-hosted WordPress and has written about her journey in two parts: Here's part 1 and here's part 2. If you're looking to make the switch, there's some great advice here!
Amanda at On a Book Bender listed some of the WordPress Plugins she uses and recommends. I've implemented a few of them now – very useful they are too.
Do you use Edelweiss? I've seen quite a few people say that they find the website a little confusing. Recently, Edelweiss held a librarian boot camp webinar to explain some of the features of Edelwiess, and they've made a recording of it available. It goes for about an hour and might help make it a bit easier to navigate around the site.
The Aussie author Rowena Cory Daniells posted a guest post on Fantasy and Sci-fi Lovin' last week about why we're so into Fantasy films and books. It's a great read, and the inspiration for my 5fF post this week. Check it out!
Kingdom, by Anderson O'Donnell is free on Kindle this Monday, Tuesday and Wednesday August 13-15. Do you like the sound of a dark, gritty Sci-fi thriller? If you need more convincing, here's my review. Get it, it's a brilliant read. The next in the Tiber City series is due out very soon!
Book Loot

Currently Reading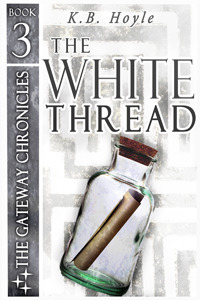 The White Thread, K.B. Hoyle
(Darcy's) return to Cedar Cove Family Camp is marked by a mysterious disappearance, and in Alitheia a new message from the Oracle adds to the riddles that must be deciphered if they are to expel the dark evil that hovers over the land. The six friends and the alchemist Rubidius plan a sea journey that will take them beyond the borders of Alitheia, and into the realm of a legendary archipelago.
Loving this third instalment in the Gateway Chronicles! Look out for my tour stop review and giveaway during this week.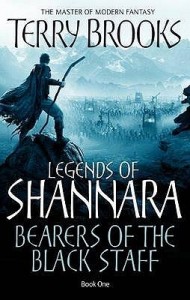 Legends of Shannara: Bearers of the Black Staff, Terry Brooks
Five hundred years have passed since the war that almost exterminated humankind. But now the cocoon of protective magic surrounding the valley has vanished. When Sider Ament, last surviving Knight of the Word, detects unknown predators stalking the valley, and Trackers find two of their own gruesomely killed, there can be no doubt: the once safe haven of generations has been laid bare…
Still listening to the audio of this… it's heavy going at work :-/ There's a lot of detail and I'm really not sure high fantasy lends itself to audio format. I'll persevere!
Coming up
You can see all the books I'm hoping to read this week on my Bout of Books Goals post!
Have a great week, everyone, and have fun in the read-a-thon if you're joining in!