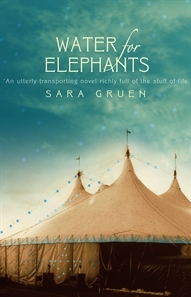 Title: Water For Elephants (Goodreads)
Author: 

 Sara Gruen
Rating:





When Jacob Jankowski, recently orphaned and suddenly adrift, jumps onto a passing train, he enters a world of freaks, swindlers and misfits in a second-rate circus struggling to survive.
A veterinary student who almost earned his degree, Jacob is put in charge of caring for the circus menagerie. It is there that Jacob meets Marlena, the beautiful equestrienne who is married to August, a charismatic but violently unpredictable animal trainer. Jacob also meets Rosie, an elephant who seems unmanageable until he discovers an unusual way to reach her.
Details
Series: Stand alone
Genre: Adult historical/contemporary
Published: Allen & Unwin, 2006 (First published Algonquin Books, 2006)
Pages: 335
Paper copies: Amazon.com • Amazon.co.uk • Book Depository
E-copies: Amazon.com • Amazon.co.uk • Barnes & Noble
Review
You may have seen the film of this book, released in 2011. I haven't seen it yet, so my reading of the book wasn't overshadowed and I tried very hard to keep Robert Pattinson out of mind while reading!
Water For Elephants is actually two stories in one, or at least, two stories separated by time. Part of the story is of the ninety- or ninety-three-year-old Jacob, lonely and isolated in a nursing home in the present day. The other part is about the younger Jacob in the 1930s, and his adventures with the depression-era train circus, the Benzini Brothers Most Spectacular Show on Earth.
There's something about the circus in general that draws me in, but repels me at the same time – I think it's the feeling of seeing something magical and spectacular but knowing that behind the scenes is sweat, dirt and pain. Perhaps not these days, but back in the 1930s that was certainly the case. The Benzini Brothers circus succeeds or fails based on the blood, sweat and tears of the workers, performers and animals, and under the often cruel eye of the bosses.
As well as the world of the circus, Water For Elephants takes us into the world of the Great Depression in the United States with its breadlines, unemployment, suicides and desperation. I haven't read much about this era before, but it sounds like a difficult time for just about everywhere in the world.
I thought the young character of Jacob was really well-written. Jacob is just about to sit his final exams for his Veterinary degree when his parents are killed in an accident, leaving him with nothing. In despair, he flees his home and lands, unexpectedly, on a Circus in need of a vet. Jacob is passionate, impulsive and kind, often putting himself in danger to help others, including the animals of the menagerie. His affair with Marlena seemed a little too love-at-first-sight, although it was very sweet.
Rosie the elephant is an adorable character all of her own. I won't spoil any of her antics for future readers but she gets up to all kinds of mischief around the circus.
The other part of this story, that of elderly Jacob waiting for his family to take him to the circus, was really quite sad. There are countless lonely grandparents and great-grandparents in homes around the world being forgotten every day. This story is a great reminder that the elderly people in our lives have fascinating stories to tell!
Water For Elephants was a very enjoyable read, although quite dark at times. If you're going to buy a copy I do recommend a paperback  – my copy had lovely black and white photographs of real circuses of the era at the start of each chapter.
Now just excuse me while I go afk to give my 79-year-old Yia-yia a big hug.
Warnings: Violence towards humans and animals, graphic sexual content.