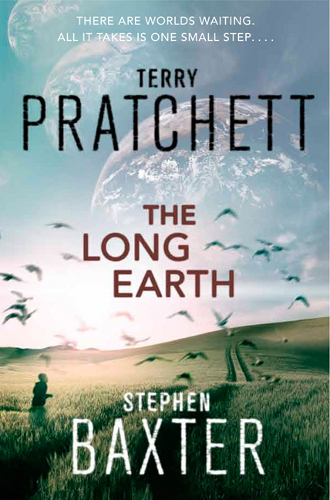 Title: The Long Earth (Goodreads)
Authors: Terry Pratchett & Stephen Baxter
Rating:





2015: Madison, Wisconsin. Cop Monica Jansson has returned to the burned-out home of one Willis Linsay, a reclusive and some said mad, others dangerous, scientist. It was arson but, as is often the way, the firemen seem to have caused more damage than the fire itself. Stepping through the wreck of a house, there's no sign of any human remains but on the mantelpiece Monica finds a curious gadget – a box, containing some wiring, a three-way switch and a…potato. It is the prototype of an invention that Linsay called a 'stepper'. An invention he put up on the web for all the world to see, and use, an invention that would to change the way mankind viewed his world Earth for ever. And that's an understatement if ever there was one… 
Details
Series: Stand alone
Genre: Science fiction
Published: HarperCollins, June 19, 2012
Pages: 336
My copy: Digital RC from the publisher via Edelweiss, thanks!
Paper copies: Amazon.com • Amazon.co.uk • Book Depository
E-copies: Amazon.com • Amazon.co.uk • Barnes & Noble
Review
Joshua is a natural stepper – that is, unlike the rest of Earth's population, he can "step" to the other realities that make up the Long Earth without the use of a stepper box. Since the stepper box was invented, humans have been migrating away from "Datum Earth" to inhabit the alternative worlds across the Long Earth – worlds untouched by humans and covered in forest, arable land and mining prospects. Joshua heads off on a research journey with a man reincarnated into a computer to the ends of the Long Earth.  Meanwhile, back on Datum Earth, the world economy is collapsing and unrest is starting to rise among those who are unable to step or are against it for various reasons.
The story follows Joshua and Lobsang's journey across the Long Earth, as well as snapshots of other people's experiences. The book as a whole is more of a collection of shorter stories exploring the possible effects of suddenly having millions of untouched Earths at humanity's fingertips. The descriptions of each Earth explored were very imaginative and I'm sure they could have gone on much longer, describing endless worlds with various permutations of dinosaurs or seal-people or whatever took their fancy! There's a gradual building of tension throughout the story but the climax was a bit of a fizzer, I thought. Perhaps there's more to come.
The Long Earth is rich in philosophy and is what I would call "proper" science fiction – exploring future possibilities with a healthy dollop of high-tech gadgets. I'm no expert in quantum mechanics but I always find stories about the possibilities of multiple realities fascinating. This particular variation is not the usual interpretation – each step in the Long Earth is a bit different than the last, but ours is the only reality where Homo sapiens has evolved.
The characters in this story disappointed me slightly. I didn't really engage with Joshua. He seemed quite grumpy and prickly all the time. I did quite like Lobsang in the end, even if he did make some baffling decisions.
I am a huge fan of Pratchett's Discworld series, but if you're expecting a light and funny read from The Long Earth, you might be disappointed.  That's not to say there aren't funny moments – in fact there were quite a few places where I recognised Pratchett's turn of humorous phrase. I haven't read any Baxter before, but I'll be adding him to my to-read list now.
Science fiction fans will love The Long Earth, but if you prefer action, you might find this a little slow.
Warnings: Mild violence