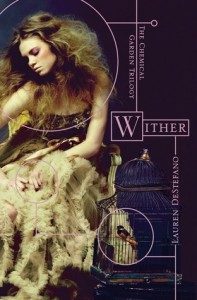 Title: Wither (Goodreads)
Author: Lauren DeStefano (@LaurenDeStefano)
Rating:





By age sixteen, Rhine Ellery has four years left to live. A botched effort to create a perfect race has left all males born with a lifespan of 25 years, and females a lifespan of 20 years–leaving the world in a state of panic. Geneticists seek a miracle antidote to restore the human race, desperate orphans crowd the population, crime and poverty have skyrocketed, and young girls are being kidnapped and sold as polygamous brides to bear more children.
When Rhine is sold as a bride, she vows to do all she can to escape. Yet her husband, Linden, is hopelessly in love with her, and Rhine can't bring herself to hate him as much as she'd like to. He opens her to a magical world of wealth and illusion she never thought existed, and it almost makes it possible to ignore the clock ticking away her short life. But Rhine quickly learns that not everything in her new husband's strange world is what it seems. Her father-in-law, an eccentric doctor bent on finding the antidote, is hoarding corpses in the basement; her fellow sister wives are to be trusted one day and feared the next; and Rhine has no way to communicate to her twin brother that she is safe and alive.
Details
Series: The Chemical Garden #1 of 3
Genre: Young adult sci-fi, Dystopia
Published: Harper Voyager, May 2011
Pages: 368

Paper copies: Amazon.com • Amazon.co.uk • Book Depository
E-copies: Amazon.com • Amazon.co.uk • Barnes & Noble 
Review
Wither can best be described as a beautifully crafted nightmare. The reader is thrust into Rhine's kidnapping right from the first page, but it takes a little while to gradually learn about the world she lives in – the countries of the world are all but destroyed, and the human race is failing. Men die at the age of 25 and women only make it to 20 before a terrible virus strikes them down. Desperate orphaned children steal what they can to survive. The whole concept is quite horrible, but a fascinating setting for a book.
Lauren DeStefano is a gifted writer and there are gorgeous descriptive moments in this book. The whole story is an emotional roller-coaster ride and quite compelling, but I still found it one of the most depressing stories I've read in a while. There's so much death, grief and desperation in this world that the happy and beautiful moments don't quite make up for it.
Rhine spends her days mooning over the life she lost when she was kidnapped. This annoyed me – I appreciate the fact that she was bitter about losing her freedom, but the position she finds herself in isn't so bad – a life of luxury and privilege as a First Wife, with a young husband who cares for her. Linden doesn't even try to consummate their marriage despite getting her thirteen year old sister wife pregnant (don't even get me started on how wrong that is). I just didn't really understand her desperation for escape, considering what life on the outside of the estate is like.
If you're an expecting mother or a new mum you might want to avoid Wither for now… the parts with Cecily distressed me and it's been almost eighteen months since my little one was born.
I felt the ending was quite uneventful, despite the entire book building up to that point, but I might read the next in the series just to see what happens.
Fans of dystopian stories will enjoy this book, but make sure you have something light-hearted to turn to afterwards.
Warnings: Implied sexual activity and pedophilia (no actual sex scenes).
What did others think of Wither?
"Lauren DeStefano did a fantastic job creating an imaginable and cruel world with Wither and I especially loved how easy it was to slip into the story. " – 4/5 – Book Passion for Life
"Lauren DeStefano created a dystopian nightmare, in the form of a beautifully written novel. " – 5/5 – Bookish Brunette
"This isn't the best book I've ever read. But it's definitely gripping, and by the end of the book, you really want to read on." – 4/5 – Death Books and Tea