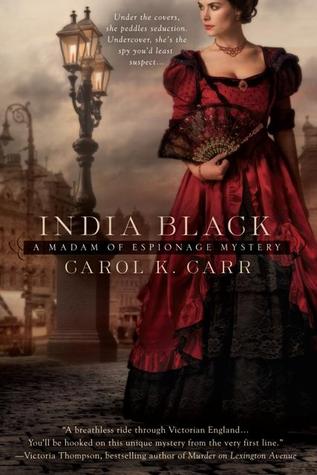 Title: India Black (Goodreads)
Author: 

 Carol K. Carr
Rating:





When Sir Archibald Latham of the War Office dies from a heart attack while visiting her brothel, Madam India Black is unexpectedly thrust into a deadly game between Russian and British agents who are seeking the military secrets Latham carried.
Blackmailed into recovering the missing documents by the British spy known as French, India finds herself dodging Russian agents-and the attraction she starts to feel for the handsome conspirator.
Details
Series: Madam of Espionage #1 of 3
Genre: Historical, Spies
Published: Berkley Trade, January 2011
Pages (Hardcover): 296

Paper copies: Amazon.com • Amazon.co.uk • Book Depository
E-copies: Amazon.com • Amazon.co.uk • Barnes & Noble

Review
India Black is the first book our shiny new book club decided to read, and wow, what an opener! This review is a little about what I thought of the book, and a little about the group's opinions from last night.
India Black is the proprietor of Lotus House, an establishment in Victorian London. In other words, she's a retired bint, now the abbess of an upmarket brothel of which she is immensely proud. When one of the regular customers dies at the house and important government documents go missing from his possession, India is drawn into a dangerous ring of spies in order to recover the documents for Prime Minister Disraeli (whom she likes to refer to as "Dizzy").
The chase leads India and the inscrutable English spy, French, into the Russian Embassy, swanky London hotels and eventually across-country and across the Channel!
Not only was this rather saucy story about whores and spies, but India herself is a delight to read about – a very strong, snarky and rather bitchy character. She's grumpy a lot of the time but extremely determined. She doesn't think much about the well-being of others. Her real draw, however, is her very dry wit. She made me laugh on several occasions, while also wincing at her treatment of Vincent the urchin boy and some of the girls in her employ.
In general we felt that the characters were a little one-dimensional – although showing snatches of interesting histories, there really wasn't any back-story told about India or any of the supporting characters. The mention of romance in the blurb might as well have not been there – there are hints of a romance but barely any action. Perhaps in the future adventures.
The chase for the Government documents is a fast-paced cat and mouse, with the English and Russian sides passing the spoils back and forth several times in increasingly desperate circumstances. By the end of the book I thought the chase was starting to draw out a little, but it wrapped up rather nicely.
I found that India Black was a very enjoyable read. In general the book club decided it wasn't a waste of our time (although not everyone felt that way!) and it was an easy and entertaining read.
Warnings: Plenty of sexual references. Violence.
The Madam of Espionage Series
India Black
India Black and the Shadows of Anarchy (expected 2013)