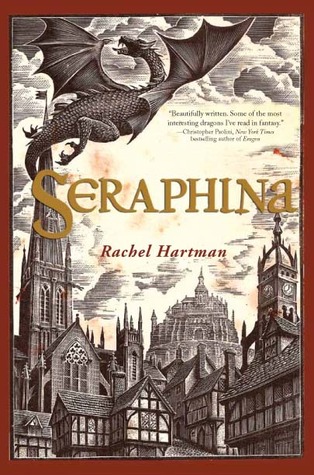 Title: Seraphina (Goodreads)
Author: 

 Rachel Hartman (@_rachelhartman)
Rating:





Four decades of peace have done little to ease the mistrust between humans and dragons in the kingdom of Goredd. Folding themselves into human shape, dragons attend court as ambassadors, and lend their rational, mathematical minds to universities as scholars and teachers. As the treaty's anniversary draws near, however, tensions are high.
Seraphina Dombegh has reason to fear both sides. An unusually gifted musician, she joins the court just as a member of the royal family is murdered—in suspiciously draconian fashion. Seraphina is drawn into the investigation, partnering with the captain of the Queen's Guard, the dangerously perceptive Prince Lucian Kiggs. While they begin to uncover hints of a sinister plot to destroy the peace, Seraphina struggles to protect her own secret, the secret behind her musical gift, one so terrible that its discovery could mean her very life.
Details
Series: Seraphina #1
Genre: YA Fantasy
Published: Random House Books for Young Readers, July 10, 2012.
Pages (Hardcover): 467
My copy: From Random House via Netgalley, thanks!
Paper copies: Amazon.com • Amazon.co.uk • Book Depository
E-copies: Amazon.com • Amazon.co.uk • Barnes & Noble

Review
When I first heard that Seraphina was a YA fantasy about dragons, I knew I had to get a hold of it. I didn't realise that on top of that, Seraphina herself is a gifted musician and assistant to the court Composer! As a lover of dragons, music (sometimes I make it too!) and romance in my fantasy, I was in absolute heaven reading this book.
Seraphina is certainly one of the most eccentric books I've read recently. It is set in such a complex world, peopled with several nations worth of humans plus, of course, the dragons. The religion of this world is quite complex as well, with an enormous pantheon of saints available to swear by. There is so much going on, in fact, that the first few chapters are quite slow to get going as we learn about this world and the relationship between the humans and dragons. I'll admit I started to get a little lost around the time she started wandering through her mental garden. Fortunately things start to pick up as soon as Seraphina gets involved in solving the Prince's murder, and don't let up until the end.
Seraphina herself is a rather tortured individual, being a despised dragon-human half-breed. She and her father keep this fact very secret and because of this, she is very lonely, sees visions in her head and seems to be generally grumpy most of the time. It's actually quite refreshing to see such a non-perfect heroine and her growth during the course of the story is delightful, as she learns more about her mother and the sacrifices she made.
Kiggs, Princess Glisselda and each of the other supporting characters are gorgeous and well-written. The dragons are especially interesting – they take human form in order to communicate with humans, but human emotions are viciously suppressed and so are completely misunderstood when they actually do begin to feel them.
Rachel Hartman has certainly created a beautifully told story that is a delight to read. The complexity of the world may be too much for some, but if you like your fantasy fairly light, witty and full of dragons, get a hold of Seraphina!
Warnings: None, it's squeaky clean.
Did you know that there's a free prequel available for Seraphina? It's called The Audition (Goodreads) and is available on Scribd! It's only 17 pages long so make sure to check it out!
What did others think of Seraphina?
"I have read quite a few stunning Young Adult fantasy novels this year and Seraphina is definitely another one to add to the recommend list. " – 4/5 – Phillipa of Tea, Daydreams & Fairytales
"The imagery alone was breath-takingly beau­ti­ful. The prose were pol­ished and ele­gant. It was a plea­sure to read." – 5/5 – Kat of Cuddlebuggery
"This dazzling debut has everything I love about the Fantasy genre; it features heartwarming characters, is set in a vivid new world (with dragons!) and deals with conflicts that I could immediately relate to. " – Speculating on SpecFic