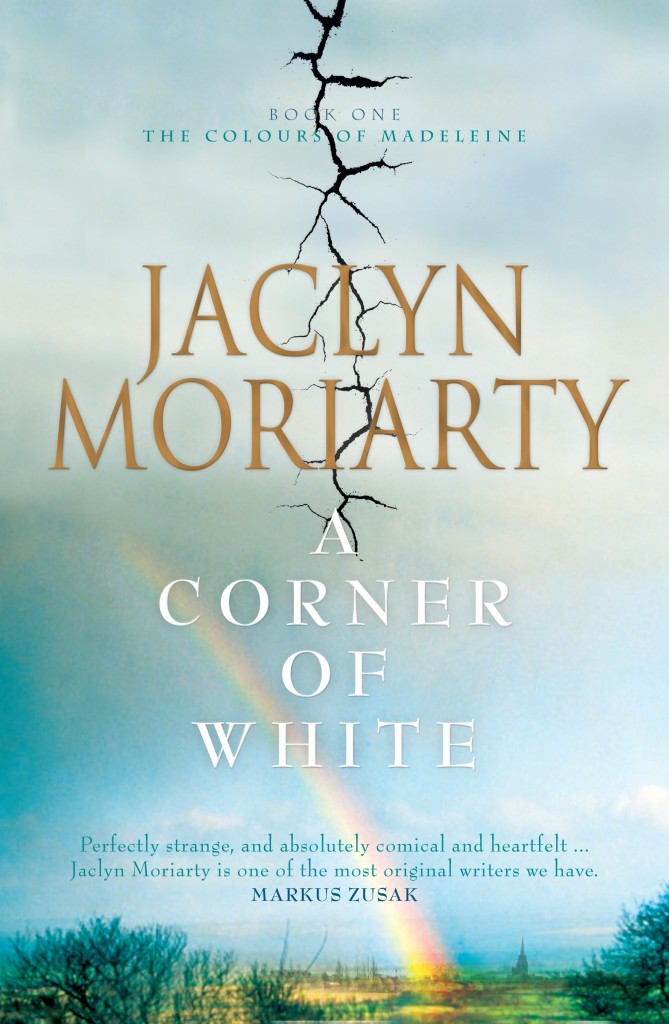 Title: A Corner of White (Goodreads)
Author: 

 Jaclyn Moriarty
Rating:





Madeleine Tully lives in Cambridge, England, the World – a city of spires, Isaac Newton and Auntie's Tea Shop.
Elliot Baranski lives in Bonfire, the Farms, the Kingdom of Cello – where seasons roam, the Butterfly Child sleeps in a glass jar, and bells warn of attacks from dangerous Colours.
They are worlds apart – until a crack opens up between them; a corner of white – the slim seam of a letter.
Details
Series: The Colours of Madeleine #1
Genre: YA Fantasy/Sci-fi
Published: Pan Macmillan, October 1, 2012
Pages: 412
My copy: The publisher in exchange for a review, thanks!
Paper copies: Amazon.com (pre-order for 2013) • Amazon.co.uk (pre-order for 2013) • Book Depository • Booktopia.com.au
E-copies: Amazon.com • Bookworld
Review
Madeleine and her mother live in Cambridge, England, after running away from her father and a life of luxury. She has started home schooling with other teenagers Jack and Belle but is worried about her mother, who is starting to forget things and has strange headaches, and the world of Cambridge seems terribly colourless after her previous life. That is, until she sees a corner of a strange note sticking out of a parking meter.
In the Kingdom of Cello, on the other side of the crack in the parking meter, Elliot has just got back after searching for his missing father. His father went missing a year ago after a mysterious attack from a Purple, along with the village physics teacher. He's all set to head off searching again when a new family moves to the town of Bonfire to take over his father's empty electronics repair shop.
A Corner of White is the story of the parallels between events in our World and the Kingdom of Cello, about relationships, responsibility and growing up. The story is rather gentle at first and chapters pass between the two worlds, telling each story separately. The pace picks up considerably though and by the end of the book I found myself unable to put it down.
The Kingdom of Cello is an interesting world, very similar to our own but with Colours that manifest as substances that wash across the world, affecting the population in different ways. A wave of Reds, for example, makes people behave strangely, while a Purple or Yellow attack can be deadly. The Colours weren't explained all that well, they just arrived and departed again with little fanfare, but they were a rather interesting danger to take into account.
Apart from the events of the story, there's also a thread running throughout about the famous scientists who attended Cambridge University and their contemparies, including Charles Babbage, Ada Lovelace, Lord Byron and most importantly for the story, Isaac Newton. If you're interested in these figures and their interesting ways and discoveries then you'll find this book very informative.
Jaclyn Moriarty writes in a foreword that she originally started writing a children's book about Cello, and later changed it to involve teenagers. It certainly reads like a children's book to start with – the characters are quirky and larger than life, but as the story develops more adult themes are introduced. The eccentricity of the characters never quite disappears – those in the World or in Cello. At first this was a little strange and even though I loved the characters, especially those in Cello, I wasn't sure if they were meant to be taken seriously or if it was all just a bit of a parody. Either way, I was often delighted with the way they all interact and the often whimsical nature of the story.
A Corner of White was a very different but excellent addition to YA Fantasy. I can't wait to read more about Madeleine and Elliot and their worlds!
Warnings: None, it's squeaky clean
What did others think of A Corner of White?
"Imaginative, original and Colourful, A Corner of White is a magical story that leaves "a trail of light" for the reader to follow.."  – 4/5 – Shelleyrae of Book'd Out (there's a giveaway there as well, ending Sept 30!)
"I loved the imaginative way that Moriarty was able to develop the connection between the two worlds and between the two main characters." – Marg of The Adventures of a Intrepid Reader
"A promising start to an exceptional fantasy series with fascinating, multi-layered characters and solid world-building by our very own Jaclyn Moriarty." – 4/5 – The Australian Bookshelf