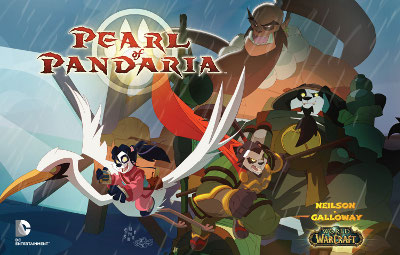 Title: World of Warcraft: Pearl of Pandaria (Goodreads)
Author: Micky Neilson and Sean Galloway
Rating:





Pearl of Pandaria introduces Li Li Stormstout, a precocious young student who lives atop a giant turtle called Shen-zin Su. Like the rest of the wandering island's pandaren, Li Li comes from a line of adventurers who left their homeland long ago to explore the world…and she wants nothing more than to chase that dream. But when Li Li runs away to find her famous uncle Chen, how will she survive Azeroth's perils?
Details
Series: Stand Alone
Genre: Graphic Novel
Published: DC Comics, September 25, 2012
Pages: 128
My copy: The publisher via Edelweiss
Paper copies: Amazon.com • Amazon.co.uk • Book Depository
E-copies: Amazon.com • Amazon.co.uk • Barnes & Noble

Review
If you didn't already know, I've been a World of Warcraft player for quite a few years now, so I was thrilled to be given the chance to review this graphic novel. It's a tie-in with the upcoming expansion release of Mists of Pandaria on September 25th (omg tomorrow!!!), and introduces us to the Pandaren and their wanderlust.
Long ago, a group of Pandaren followed the explorer Liu Liang onto the back of his giant turtle, known as the Wandering Isle, to set off to see the world. Gradually the wanderlust left them, but one Pandaren still longed to explore – Chen Stormstout. Years later, Chen's young niece Li Li decides to set out on a dangerous journey to the Eastern Kingdoms to find her Uncle Chen.
The journey takes her and her protector sent from the Wandering Isle, Bo, across the Eastern Kingdoms to familiar cities, to the drunkenness of Brewfest, then across to Kalimdor. Along the way Li Li and Bo face darker forces intent on taking the Pandaren treasures for themselves.
I really enjoyed the gorgeous illustrations in Pearl of Pandaria. The story itself is cute and funny at times – not quite on the same scale Lore-wise as the other Warcraft books but introduces quite a few stories and should appeal both to children and veterans of Azeroth alike. The Pandaren are amazing characters and I'm really looking forward to exploring more of their lands soon!
Warnings: Cartoon battle scenes.
Other WoW Graphic Novels