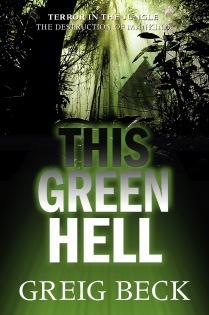 Title: This Green Hell (Goodreads)
Author:  

 Greig Beck (@GreigBeck)
Rating:





In the jungles of Paraguay, Dr Aimee Weir and her team are in trouble.
While drilling deep into the Earth a contagion strikes, their camp is quarantined, but workers start to vanish in the night. 
Is it fear of contamination – or has something far more lethal surfaced? 
Alex Hunter – code name Arcadian – and his Hotzone All-Forces Warfare Commandos are dropped in to the disaster area to do whatever it takes to stem the outbreak. But for the mission to be a success, the Arcadian must learn to master his violent inner demons long enough to confront the danger that not only threatens his own immediate survival, but that of mankind.
Details
Series: Alex Hunter #3 of 4
Genre: Science fiction thriller
Published: Pan Macmillan Australia (print) April 2011, Momentum Books (electronic) August 2012.
Pages: 326
My copy: Momentum Books for review
Paper copies: Amazon.com • Amazon.co.uk • Book Depository • Booktopia.com.au
E-copies: Amazon.com • Bookworld.com.au (epub)
Review
Dr Aimee Weir, deep in the Paraguayan jungle, is on the verge of making a discovery that could change the world – a source of renewable energy from bacteria deep within the earth that produce natural gas from carbonates. When the samples are brought up though, the bacteria begins to feed on any carbon available – including human flesh. On top of that, an ancient evil has been disturbed and is gradually picking off the workers at the drilling site. Can the Arcadian and his team get in there in time to get the survivors out?
This Green Hell is actually the third Alex Hunter book. I wasn't aware of that before I started reading it, but the fact that I haven't read the first two didn't affect my enjoyment of this book. There is a potted explanation of the Arcadian project and references to previous stories in the first few chapters, so I had some idea of what was going on as This Green Hell got under way. Basically, Alex Hunter was a soldier, brought back from the brink of death by a procedure to his brain that has given him enhanced senses, strength and speed (a bit like Captain America, I suppose). Unfortunately it has also made him slightly unstable, and his commanding officer is protecting him from the military scientists who'd like to dissect and study him. He's an operative in the HAWCs, a marine-style division in the US military.
Alex himself is pretty bad-ass, but also seems quite tortured and prone to losing control in violent ways. His romance with Aimee may rekindle in this book, but I thought she should just stay the hell away, personally!
This book is certainly not for the faint-hearted. There's plenty of grisly descriptions of the melting-death disease unearthed at the drill site and also the general ripping apart of people that the undead priest is fond of. I'm not usually a huge fan of blood and guts and it was perhaps slightly overdone in this book, but not enough to put me off completely. The detailed descriptions aren't all grisly though, and the descriptions of the surroundings really put you right into the action. I mean, this is the tropical jungle, here. It's steamy, sweaty and full of bugs, and you certainly get that feeling while Aimee and the drill site team are at work.
The action is a little slow in the first half of the book but the suspense builds up so well that by the time it all starts happening, it was very, very difficult to put the book down. There's a bit of a cliffhanger ending which is slightly disappointing after all they had just been through, but the next book is due out very soon so there's not long to wait to find out what happens next!
I'd recommend This Green Hell to those who enjoy military thrillers with a sci-fi twist, and who don't mind a bit of blood and guts in their violence.
Warnings: Extreme violence and horror themes. Sexual situations. Language.
The Alex Hunter series
Beneath the Dark Ice (2009)
Dark Rising (2010)
This Green Hell (2011)
Black Mountain (TBP December 2012)
What did others think of This Green Hell?
 "This Green Hell is a smart, delightful read with a big heart." – 4 stars – Coeur De Lion Publishing
"I love a great action/adventure thriller and Greig Beck is quickly becoming a force to be reckoned with in this genre. This was an edge of your seat nail biter for me the whole way through." – The Speed of Write