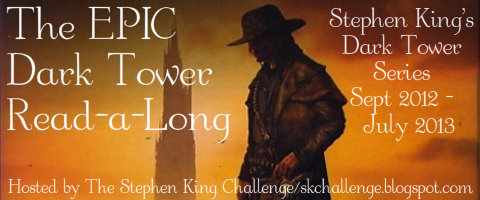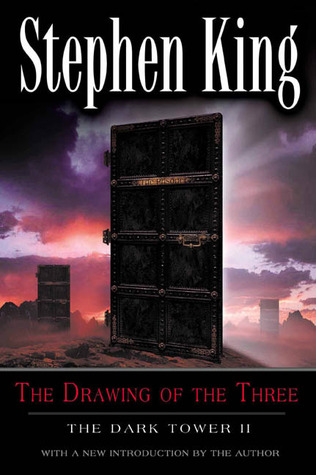 Title: The Drawing of the Three (Goodreads)
Author: 

 Stephen King
Rating:





~ Blurb from Goodreads ~
After his confrontation with the man in black at the end of The Gunslinger, Roland awakes to find three doors on the beach of Mid-World's Western Sea—each leading to New York City but at three different moments in time. Through these doors, Roland must "draw" three figures crucial to his quest for the Dark Tower.
In 1987, he finds Eddie Dean, The Prisoner, a heroin addict. In 1964, he meets Odetta Holmes, the Lady of Shadows, a young African-American heiress who lost her lower legs in a subway accident and gained a second personality that rages within her. And in 1977, he encounters Jack mort, Death, a pusher responsible for cruelties beyond imagining. Has Roland found new companions to form the ka-tet of his quest? Or has he unleashed something else entirely?
Details
Series: The Dark Tower #2 of 7
Genre: Sci-fi/Fantasy/Horror Novella
Published: First published April 1987
Pages: 463

Paper copies: Amazon.com • Amazon.co.uk • Book Depository
E-copies: Amazon.com • Amazon.co.uk • Barnes & Noble
Review
Note: The Stephen King's The Dark Tower challenge is supposed to be a read-a-long, but I'm doing less of the "answer questions as you read" part and more just reading each book and posting my review each month. If you're interested in reading some discussion questions about each book, please check out the Dark Tower Challenge blog.
You can also check out my review for the first book in The Dark Tower series, The Gunslinger.
---
The story of The Dark Tower really begins in earnest in this second instalment. At twice the length of The Gunslinger, The Drawing of the Three packs twice the punch in drama and non-stop action.
As one might expect from a Stephen King novel, the story is often strange and more often graphically violent, right from the first chapter when Roland first meets the "lobstrosities" – the huge, razor-clawed crustaceans that roam the beach and pose a constant danger throughout this story.
There are three doors to be entered, each leading to New York City but to three people in different times. The Gunslinger must try to help each of these tortured individuals with their dramatic lives, and bring them through the doors to his own world to join him in the quest for the Tower. Along the way he must deal with a completely foreign world, and I found this aspect of the story fascinating. Roland is very good at improvisation and manages to get what he needs in the strange world despite his bafflement and awe.
I enjoyed this second book in the series more than the first, as it flowed together in one coherent story. There may well be some allegorical meaning that I'm missing somewhere, but in itself this is a very compelling and often horrible story. I wanted to read it, to find out what happens, but I didn't want to read it because of the things that were happening!
I'm not convinced about the characters in this one – Roland himself is still awesome, but everyone else seemed to have wild and extreme mood swings – they love very easily and yet hate with passion, which doesn't seem entirely realistic to me. At the end I was left wondering what exactly had happened to Odetta/Detta, but I suppose I'd better get a hold of book three to find out!
If you're a fan of horror and fantasy in equal measures, I'd recommend The Dark Tower series. It's an often harsh world but it is so well-written that I can see why many call it King's masterpiece.
Warnings: Sexual scenes, coarse language, graphic violence.
The Dark Tower series
| | | | |
| --- | --- | --- | --- |
| | | | |
| | Wolves of the Calla | Song of Susannah | The Dark Tower |