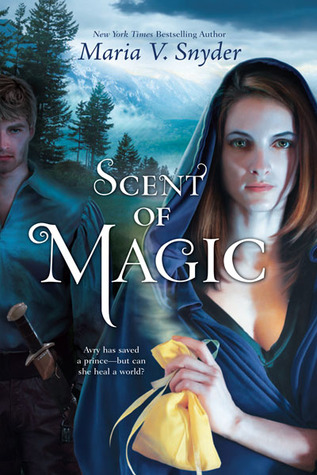 Title: Scent of Magic (Goodreads)
Author: 

 Maria V Snyder (website)
Rating:





As the last Healer in the Fifteen Realms, Avry of Kazan is in a unique position: in the minds of her friends and foes alike, she no longer exists. Despite her need to prevent the megalomanical King Tohon from winning control of the Realms, Avry is also determined to find her sister and repair their estrangement. And she must do it alone, as Kerrick, her partner and sole confident, returns to Alga to summon his country into battle.
Though she should be in hiding, Avry will do whatever she can to support Tohon's opponents. Including infiltrating a holy army, evading magic sniffers, teaching forest skills to soldiers and figuring out how to stop Tohon's most horrible creations yet; an army of the walking dead—human and animal alike and nearly impossible to defeat.
War is coming and Avry is alone. Unless she figures out how to do the impossible … again.
Details
Series: Healer #2
Genre: Young adult fantasy
Published: Harlequin Teen, December 2012
Pages: 400
My copy: From the publisher via Netgalley, thanks!
Paper copies: Amazon.com • Amazon.co.uk • Book Depository
E-copies: Amazon.com • Amazon.co.uk • Barnes & Noble • Bookworld (epub)
Review
Please note: This is my review for the second book in the Healer series and so contains spoilers for the first, Touch of Power. You may prefer to go and read my review of that book instead!
---
Scent of Magic is an action-packed follow-up to Touch of Power. There were things about the first book that I didn't really like and some of them are still present in the sequel, but on the whole I found Scent of Magic captured my attention a lot more.
Avry and Kerrick have escaped from Tohon and his undead army and must now use Avry's "death" to their advantage. They split up, Avry heading back towards Estrid's army and Kerrick heading back over the mountains to his home realm to try to raise troops there.
The point of view passes between Avry and Kerrick in alternate chapters. Avry's parts are first-person, but Kerrick's story is third person. The first/third person switching really confused me at times, and it made Kerrick's sections of the story feel a lot less personal. Kerrick's character wasn't developed at all – sure, he's loyal, honourable and misses Avry a lot, but there doesn't seem to be much more to him.
Switching between points of view worked quite well, though, with each chapter ending on a mini-cliffhanger and encouraging the reader to continue. Avry's parts of the story were action-packed from start to finish, I really enjoy reading about this kick-arse healer lady! It's just a shame that she spends almost the entire time pining after Kerrick, and vice versa.
In my Touch of Power review, I moaned about the lack of middle-ground characters – everyone was either very good, or very evil. In Scent of Magic, there is more of a grey area – sometimes those who we thought were good actually aren't so great, and the baddies are nice some of the time.
Overall, Scent of Magic felt a lot like a middle book in a trilogy – the story didn't move forward that much, but it was still an exciting read and I enjoyed it more than the first one. With another big cliffhanger ending, I'm sad that we have to wait until December to read the final book, Taste of Death!
Warnings: Violence, sexual references
Healer
Touch of Power

Scent of Magic

?

(December 2013)
What did others think of Scent of Magic?
"Drama, adventure, romance and sacrifice, if anyone knows how to write an epic fantasy it's Maria V. Snyder." – Badass Bookie

"There is little advancement in plot or character though the mix of action, drama and suspense as well humour and romance creates an easy to read page turner." – Book'd Out
"I enjoyed reading it – there's A LOT of surprises and action, drama, betrayal going on but it fell a little short of my expectations." – whYAnot?