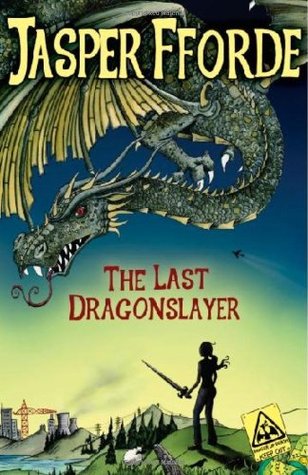 Title: The Last Dragonslayer (Goodreads)
Author: 

 Jasper Fforde (website)
Rating:





In the good old days, magic was indispensable—it could both save a kingdom and clear a clogged drain. But now magic is fading: drain cleaner is cheaper than a spell, and magic carpets are used for pizza delivery.
Fifteen-year-old foundling Jennifer Strange runs Kazam, an employment agency for magicians—but it's hard to stay in business when magic is drying up. And then the visions start, predicting the death of the world's last dragon at the hands of an unnamed Dragonslayer.
If the visions are true, everything will change for Kazam—and for Jennifer. Because something is coming. Something known as . . . Big Magic.
Details
Series: The Last Dragonslayer #1 of 3 (so far)
Genre: Middle grade fantasy
Published: Hodder and Stoughton, 2010
Pages: 283
Paper copies: Amazon.com • Amazon.co.uk • Book Depository
E-copies: Amazon.com • Amazon.co.uk • Barnes & Noble • Bookworld (epub)
Review
Dragons? Sorcerers? Set in the English countryside? Everything about this book had me expecting to love it to pieces. Unfortunately, it didn't quite live up to my expectations.
Don't get me wrong, the world Jasper Fforde has created in The Last Dragonslayer is an amazing one. Once-great sorcerers are forced to get work rewiring houses and charming moles out of gardens to pay their bills. The kingdoms of Hereford and Brecon are poised to go to war over the stretch of wilderness that will suddenly become available when the last dragon, Maltcassion, dies this coming Sunday (according to the soothsayers).
This world is an enchanting mixture of the modern world and a Potter-esque magical society, where strange beasts exist (I loved the Quarkbeast!) and magic-users must make sure to remember to fill in form B2-5C after casting minor spells. There are some very funny moments, as well as some thought-provoking ones about the state of society and the control of corporations and media.
The main problem I had while reading The Last Dragonslayer was that I had almost no attachment to the characters, and especially to Jennifer. They all carry on with their funny and silly banter, but show almost no emotion at all. Add to that the fact that the two foundlings, fifteen and thirteen years old, speak and act as though they are much older. The adult characters were all very comical and fit perfectly well into the story, but Jennifer and Tiger just seemed a little out of place and I felt the story was much less enjoyable because of that.
I couldn't help but feel that would could have ended up as a really awe-inspiring story, didn't quite make it because Jasper Fforde got a bit carried away with the silly. However, I'm pretty sure that that very thing will make it appealing to the middle-grade audience it's intended for. I'm not sure I'll continue with the series, but I'll recommend it to my son when he's old enough!
Warnings: Mild violence.
The Last Dragonslayer series