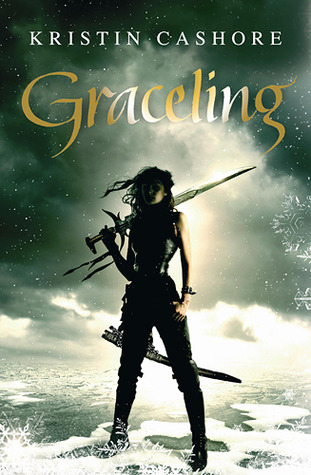 Title: Graceling (Goodreads)
Author: 

 Kristin Cashore (website)
Rating:





In a world where people born with an exceptional skill, known as a Grace, are both feared and exploited, Katsa carries the burden of a skill even she despises: the Grace of killing.
Feared by the court and shunned by those her own age, the darkness of her Grace casts a heavy shadow over Katsa's life. Yet she remains defiant: when the King of Lienid's father is kidnapped she investigates, and stumbles across a mystery. Who would want to kidnap the old man, and why? And who was the extraordinary Graced man whose fighting abilities rivalled her own?
The only thing Katsa is sure of is that she no longer wants to kill. The intrigue around this kidnapping offers her a way out – but little does she realise, when she takes it, that something insidious and dark lurks behind the mystery. Something spreading from the shadowy figure of a one-eyed king…
Details
Series: Graceling Realm #1 of 3
Genre: Young adult fantasy
Published: Gollancz 2009 (first published Harcourt, October 2008)
Pages: 352
Paper copies: Amazon.com • Amazon.co.uk • Book Depository
E-copies: Amazon.com • Amazon.co.uk • Barnes & Noble • Bookworld (epub)
Review
This is another difficult review to write, because I know a lot of my fellow readers loved it and I… didn't. I think I'll go back to the dot point format for this one – it really does help with collecting thoughts.
The Story
Katsa is an Graced assassin – gifted with an ability to kill and trained from a young age to murder and mutilate at her King's behest. In her teens, Katsa starts to see that her King's purposes are often less than noble, and she forms the Council – a group of sympathetic friends who carry out missions to undermine the power-hungry Kings.
A Council mission to find and rescue a kidnapped noble from Lienid kingdom becomes even more mysterious when a young Lienid man, Prince Po, turns up. Who was responsible for the kidnapping? Katsa and Po set out to solve the mystery.
What I liked
The start of Graceling is a little slow – lots of courtly machinations and mucking about, but once it all got going, the story itself was fantastic – an epic quest across sweeping countryside, with plenty of obstacles to overcome described in gruelling detail. Several kingdoms, each with distinct cultural variations (at least the Lienids seemed quite different from the others) and an interesting collection of characters.
The Graces were an interesting magic system – there is a seemingly inexhaustable variety of talents that people are gifted with, but each person is only Graced with one. There seemed to be quite a few people Graced with fighting, but what happens if you're Graced with something like cooking, and you don't actually want to be a cook? Too bad!
I loved Raffin! He seemed like such an absent-minded but loyal friend, I thought it was such a shame when he was left behind and we don't hear from him for the rest of the book!

I did like Po, too. He's passionate, romantic and a lot more likeable than Katsa. The only problem I had with him was that when he was introduced at the start as being tall, dark and having a foreign accent, I equated him in my mind with Inigo Montoya and it started getting weird when he got all romantic.

The banter between characters was great – very funny at times!
What I didn't like so much
The writing style. Some have described it as "elegant prose" but I found it difficult to read at times. Short sentences, scenes are mostly only short snatches of action (or non-action, as the case may be), conversations that would be more at home in a more formal epic fantasy… all these things sound a little picky, but I just didn't feel the story flowed well.
Katsa. I know, she was taken and used from a young age, and most other people at the court shun her because of her Grace, but that doesn't change the fact that now, at eighteen, she is basically a grumpy robot. The first time I felt she had any pleasant emotions in her was when she was looking after Princess Bitterblue. Even the romance seemed stilted, despite Po being quite swoony. Perhaps that's the way it was intended, but I just didn't really like her.
The climax and ending were quite abrupt. There wasn't even a lot of tension before it all happened – I just thought it was going to end quietly and then BAM!
Overall
Okay so I've made it sound like I didn't really like Graceling, but I did enjoy reading it! Kristin Cashore has written a stunning debut with a compelling story and a fascinating world. I'm hoping the storytelling style will have matured a little in the second and third books in this series so that I'll enjoy reading them a bit more.
Other fans of  Young Adult Fantasy have loved this book, so please don't let me discourage you from reading it!
Warnings: Violence including towards animals, sexual situations (not graphic)
The Graceling Realm
What did others think of Graceling?
"(Graceling is) strong in originality – i found the concept of Graces intriguing and Cashore used this well throughout the book." – Book'd Out

"The plot in this novel is ever-evolving, the characters are so easily to get attached to, and Cashore's writing will pull you in from the very beginning and never let you go." – Lili's Reflections
"I like the idea of people being Graced and what that entails, I really like Katsa and her personal convictions, and most of the other characters in the book are well-written, too. The storyline is good and made me want to keep reading when I should have been putting the book down… (but) The romantic relationship between Po and Katsa never needed to take place, and the story would have been much better without it." – Between the Covers