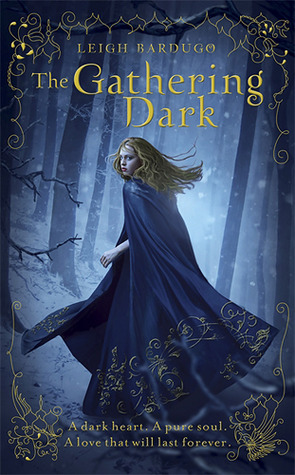 Title: The Gathering Dark (Goodreads) or Shadow and Bone in USA
Author: 

 Leigh Bardugo (website) (twitter)
Rating:





The Shadow Fold, a swathe of impenetrable darkness, crawling with monsters that feast on human flesh, is slowly destroying the once-great nation of Ravka.
Alina, a pale, lonely orphan, discovers a unique power that thrusts her into the lavish world of the kingdom's magical elite—the Grisha. Could she be the key to unravelling the dark fabric of the Shadow Fold and setting Ravka free?
The Darkling, a creature of seductive charm and terrifying power, leader of the Grisha. If Alina is to fulfil her destiny, she must discover how to unlock her gift and face up to her dangerous attraction to him.
But what of Mal, Alina's childhood best friend? As Alina contemplates her dazzling new future, why can't she ever quite forget him?
Details
Series: The Grisha #1
Genre: Young adult fantasy
Published: Indigo, June 2012
Pages: 305
Paper copies: Amazon.com • Amazon.co.uk • Book Depository
E-copies: Amazon.com • Amazon.co.uk • Barnes & Noble • Bookworld (epub)
Review
The Gathering Dark (published as Shadow and Bone in the USA) was one of the most talked-about YA Fantasy releases of 2012. I bought myself a copy soon after it was released since everyone seemed to be loving it, but have only just got around to reading it. If I had got to it closer to its release date, I'm sure it would have been one of my favourite reads of 2012. I read the whole book in one day during the Bout of Books a couple of weeks ago!
The story centres on Alina, a cartographer in the army of Ravka. Her best friend Mal, who she has been friends with since they lived at an orphanage together as children, is also in the army, and they are both involved in a mission to cross the Unsea, the dark Shadow Fold that stretches across the land. As they are crossing, their convoy is attacked by monsters and Alina discovers a latent power – the ability to summon sunlight and drive away the shadow creatures. This ability makes her very attractive to the Grisha – an upper class of magic-wielders, and especially the Darkling himself. Alina is taken to the capital of Ravka for Grisha training. The Darkling insists that Alina will help him change the world, but first Alina must learn how to use her powers.
The Gathering Dark sweeps us into a Russian-inspired land of dark creatures, the beautiful but vain Grisha and the mysterious Darkling – a sinister but alluring sorcerer.
A few reviews I've read criticised this book for the misuse of Russian terms and cultural elements. I have very little knowledge of the Russian language and only a very small exposure to Russian culture, so I can only say that to me, it was an interesting change to use Russian-inspired place names and personal names rather than the usual practice in fantasy of using Great Britain as setting inspiration. I liked it!
I've also read a few reviews which say that this book is indistinguishable from a host of other YA fantasies out there. While I agree to a certain extent, it happens to be a formula that I quite enjoy, especially when it's paired with such a unique world and a fantastic storytelling style as Leigh Bardugo's.
Alina was quite an ordinary citizen of the kingdom of Ravka at the start. A cartographer in the First Army (as a cartographer myself this tickled me), she has no particular combat ability and admires and fears the Grisha as much as anyone else. Thinking herself beneath notice by her more popular best friend, Mal, she is rather self-deprecating. When her powers as a Sun Summoner are revealed she is in denial for a long time, but gradually grows into her role as a new Grisha and is much stronger by the end of this first part. I loved Mal and his loyalty, but we really didn't get to see much from him in this first book. The Darkling, however – I won't go into detail but wow, such a complex character! I did feel that he was a bit forward with Alina too early, but in the end it all played out perfectly.
There were actually parts of The Gathering Dark that I didn't love, mostly revolving around the sections when Alina was at the Palace in Os Alta doing her Grisha training. It gets rather boarding-school-y with plenty of catty girls obsessed with their appearance. The story also slowed down in the middle while Alina struggled to take control of her powers, and while some struggle is fine, it went on a bit long and with a bit too much mooning about for my taste. Once the ball and the performance came along though – wow.
At 300-odd pages this feels less like an entire book and more like the first part of an epic fantasy, especially with the ending leaving the main characters out on such a limb. I'm not a huge fan of cliff hangers and this one is quite frustrating, but there will be all the more reason to pick up the second book, Siege and Storm, as soon as it's released in June 2013.
Those who love "light" fantasy with romance and magic, get your hands on this amazing debut from Leigh Bardugo. I was unable to put it down, and I can't wait to see what happens next!
Warnings: Violence, sexual references
The Witch of Duva
Can't get enough of The Gathering Dark? Leigh Bardugo has released a short story based in the same world. The Witch of Duva does not contain any of the same characters as The Gathering Dark, but is rather a folk tale told by the residents of that world. It's a rather dark but gripping tale of a village where young girls go missing into the woods. It terrified me!
The Witch of Duva is available for free on the Tor website. Go read it now!
What did others think of The Gathering Dark/Shadow and Bone?
"I don't want to be pushy but you MUST read this book! Even if it doesn't sound like your cup of tea, IT IS YOUR CUP OF TEA." – Badass Bookie

"I can't say this enough: I loved Shadow and Bone! I would recommend it to everybody. Read this now!" – Burnt Pages
"There is the shy but spunky outcast heroine narrator with latent powers that will make everyone suddenly respect her, the male friend without much of a personality who might be something more, and the hot, mysterious newcomer who teaches said heroine about her newfound abilities. Go through a list of YA paranormal or fantasy titles and you will find that nearly every one of them fits the bill." – Epic Chocolate Fantasy