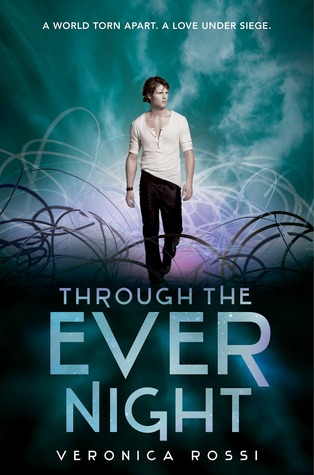 Title: Through the Ever Night (Goodreads)
Author: 

 Veronica Rossi (website) (twitter)
Rating:





It's been months since Aria last saw Perry. Months since Perry was named Blood Lord of the Tides, and Aria was charged with an impossible mission. Now, finally, they are about to be reunited. But their reunion is far from perfect. The Tides don't take kindly to Aria, a former Dweller. And with the worsening Aether storms threatening the tribe's precarious existence, Aria begins to fear that leaving Perry behind might be the only way to save them both.
Threatened by false friends, hidden enemies, and powerful temptations, Aria and Perry wonder, Can their love survive through the ever night?
Details
Series: Under the Never Sky #2 of 3
Genre: Young adult post-apocalyptic Sci-fi
Published: Pier 9 in Australia, HarperCollins in USA, January 2013.
Pages: 352
My copy: For review from the publisher via Edelweiss, thanks!
Paper copies: Amazon.com • Amazon.co.uk • Book Depository
E-copies: Amazon.com • Amazon.co.uk • Barnes & Noble • Bookworld (epub)
Please note: This is a review for the second book in the series, and contains spoilers for Under the Never Sky. You may prefer to go and read my review of that book instead!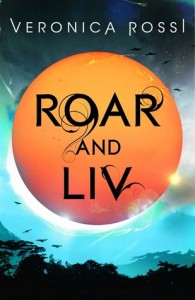 Just a short note before I begin – late in 2012 Veronica Rossi released an e-novella as part of the UtNS series – Roar and Liv. The story takes place just before the events of the first book, and while you don't have to have read Under the Never Sky for the events of Roar and Liv to make sense, it does help. It also sheds more light on the relationships between Perry, Roar, Liv, Talon and Vale. I recommend reading it!
Buy Roar and Liv: Amazon.com • Amazon.co.uk • Barnes & Noble • Bookworld (epub)
---
Review
After I finished Under the Never Sky I was desperate to get stuck into this second book – I really enjoyed the first one and I was hoping Through the Ever Night could live up to the expectations I had. Fortunately, it was very, very difficult to put this second instalment down – something that a lot of middle books struggle with – and I loved it.
Aria has been staying at Delphi with Marron while Perry returns to the Tides to regain his hold as Blood Lord over the tribe. The story picks up as they are reunited after several months apart, during which time Aria's abilities as an Aud are sharpened. Aria and Perry decide that the best course of action is to return to the Tide encampment and prepare for a journey north to the city of the Horns. Apparently the leader there, Sable, knows about the location of the Still Blue, a mysterious land without the destructive Aether where their people could live in safety. The Tides are naturally wary of Aria and don't accept her easily. Meanwhile, a consignment of food and helpers arrives from the Horns. Does this mean that Liv has gone through with her part in the bargain and married Sable after all?
Through the Ever Night is a roller-coaster ride of action, emotion, hope and heartbreak. This story is in no way just a romance between Perry and Aria – there are emotional scenes of every shade and each character is driven by their own ambitions or quest. The world they live in is travelled and explored more widely and we learn more about how tribal society works, although still not a lot about Aria's old life inside Reverie.
The point of view once again switches between chapters between Aria and Perry, and this style works well to keep each thread of the story moving along. Even when the two are together, the pov shift adds dimension to the story to see events from two sides. Perry and Aria's voices differ enough that they have distinct feelings about the way things happen. Roar plays a large part in this story as well, and as before is a brilliant and lovable character, driven to distraction trying to chase down his love, Liv. I also loved how the citizens of Reverie were brought back into the story – I can't begin to imagine how they're all going to deal with what has happened at the end!
I enjoyed every bit of Through the Ever Night. The things that annoyed me in the first book were explained or were missing in this one. The romance was lovely and there were a few "don't you DARE do that!" moments in it too. I know this whole review has been one long gushy mess but honestly, I cannot wait to see what happens next.
Bring on the final book!
Warnings: Violence, sexual situations (not graphic)
Under the Never Sky
What did others think of Through the Ever Night?
"Through the Ever Night had everything that was missing for me in Under the Never Sky: a gripping plot, characters I cared about, and a story that felt necessary." – Book Nook

"Even if you weren't impressed with the first book, I highly urge you to change your mind and read this second book. Rossi grew by leaps and bounds, and when that happens with a recently-debuted author, it's really a joy to watch." – Birth of a New Witch
"Veronica Rossi's writing continues to be amazing and she really pulls off both Aria's and Perry's POV flawlessy by giving them each a unique voice." – Book-A-Holic