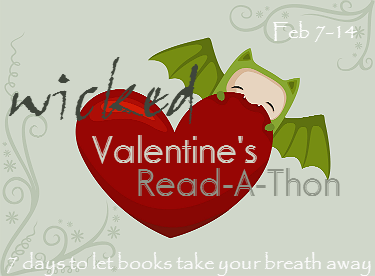 It's time for the Wicked Wildfire Read-a-thon, except this time, it's called the Wicked Valentine's Read-a-thon! You can still sign up until Monday Februrary 11.
Here's a bit of info about the read-a-thon:
The Wicked Valentine's Read-A-Thon is a time when we all get together to dedicate the days of February 7-14 to as much reading as possible. You read as much as you can in order to get yourself a little further through that huge to-read pile! We know real life gets in the way and even if you can't participate more than one day, you're welcome to join in on the fun!

In the meanwhile, we will be hosting book-related challenges where you can win some awesome prizes and have a Twitter party at the hashtag #WWReadathon! You can posts updates on your blog, Twitter, Goodreads or Facebook — as long as the profile is public and we all can enjoy your reading progress!
(From My Shelf Confessions WWReadathon page)
I've only just recovered from the last Read-a-thon I took part in, but I love these events so I thought I'd sign up anyway. There's always plenty to read!
Make sure you visit My Shelf Confessions to see all the events that will be going on around the blogs and on Twitter this week!
Many of the books I've listed are library books that I need to get through to take back. I have a problem with that place, I can never come out with just one book!
Book list
Updates
7th
Today's progress: The Cypher, 78% to end (53 pages). Scarlet, first 6% (28 pages)
Total pages so far: 81
Comments: I am at home looking after Mr Ang after his surgery, and my Sproutling as well. It's a busy week, but I am finding a bit of time for reading here and there.
8th
Today's progress: Scarlet, 6-50% (204 pages)
Total pages so far: 285
Comments: I really loved Cinder last year when I read it but because I borrowed it from the library, I couldn't go back to refresh my memory of what happened! The start of Scarlet picks up right away with very little reminder – I recommend re-reading the end of Cinder before you start this one. Still, it's difficult to put down 🙂

9th
Today's progress: Scarlet, 50% to end (232 pages). The Eyre Affair, pages 1 to 12.
Total pages so far: 529
Comments: I'm not so sure about Scarlet's page count – I read the kindle version and it seemed a lot shorter than 464 pages! In any case, I loved it 🙂 Made a small start on The Eyre Affair for bookclub.
10th
Today's progress: The Eyre Affair, pages 12 to 107.
Total pages so far: 624
Comments: Today was another day at home trying to convince him that going on the toilet is easy. Apparently, it's not *slump* Anyway, The Eyre Affair is quite clever, but I'm not sure I really like Fforde's style.
11th
Today's progress: The Eyre Affair, pages 108 to 231.
Total pages so far: 747
Comments: Back to work for a rest, but not a whole lot of time to read. I'm enjoying The Eyre Affair a lot more now – it's getting exciting! Must try to finish it tomorrow.
12th
Today's progress: The Eyre Affair, pages 232 to end (141 pages). Star Wars: Scoundrels pages 1 to 28.
Total pages so far: 916
Comments: The end of The Eyre Affair was great! It kind of grew on me as I went along… I'll be looking out for the second in this series sooner or later I think. Made a start on the Star Wars book!
13th
Today's progress: Star Wars: Scoundrels pages 29 to 98 (69 pages).
Total pages so far: 985
Comments: Work sprung a surprise BBQ lunch on us today so no lunchtime reading, but I got a little done on the train each way. Not the most successful end to the week but 985 pages ain't bad!