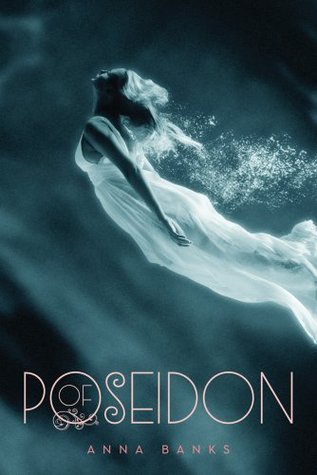 Title: Of Poseidon (Goodreads)
Author: 

 Anna Banks (website) (twitter)
Rating:





Galen is strong, protective and gorgeous, with striking violet eyes and a body to make you shiver – and that's just when he's in human form. He's from the House of Triton, god of the sea, and he's searching for a girl with the gift of Poseidon to save his brother from marrying a fraud.
Emma is a human. Or so she thinks. When Emma meets Galen on the beach, they both sense a sizzling chemistry.
But can Galen convince her that she holds the key to his kingdom – without letting on that he's falling for her?
Details
Series: Of Poseidon #1
Genre: Young adult paranormal romance
Published: In AU, Hardie Grant Egmont, June 2012. In US Feiwel & Friends.
Pages: 324
Paper copies: Amazon.com • Amazon.co.uk • Book Depository
E-copies: Amazon.com •  Barnes & Noble • Bookworld (epub)
Review
Of Poseidon is one of those polarising books. On the one hand, it's a great debut with an interesting story, is quite an enjoyable read, plus it has a cover I've been admiring ever since it was released! On the other hand, it contains some rather major wince-worthy moments that caused a lot of bloggers to one-star this book. I'm not going to do that, because on the surface (ha ha) I quite enjoyed reading it. After I read a few reviews though, I have to agree with many points others have made.
So, here's another liked/didn't like review.
The Story
Galen is a prince of the Syrena, ocean-dwelling shifters (mermaids, but don't call them that!) who try not to have anything to do with humans. Galen has appointed himself as a sort of spy to keep an eye on what the humans are up to and make sure they're not about to discover the Syrena. Then, he meets Emma on a beach in Florida. She's a human, but he can sense her in the way that he senses other Syrena. He decides to try to solve her mystery, moving to her town in New Jersey and following her around. Galen's brother Grom is the current King of the Titans. According to the Syrena's accord the King must mate with a female "of Poseidon" in order to preserve the bloodlines. When Emma starts to show signs of royal gifts, Galen realises that if she is Syrena, he must do his duty and deliver her to his brother. But how can he, when he is steadily falling for her?
Emma is trying to recover from the loss of a friend when she starts getting caught up with the gorgeous Galen and his bitchy sister, Rayna. After her introduction to the world of the Syrena, she makes it her business to find out exactly what she is, without revealing that her feelings towards Galen are growing daily.
Things I liked
Galen. Not in a "Omg, hot hot hot!" way, just in general. I admired his tenacity and his loyalty to the kingdom. 

The story was quite light-hearted and had me chuckling regularly. I especially liked Toraf and his playfulness. More Toraf please!
The romantic parts were quite well written, even if it was all rather predictable.
The story is told from both Emma's and Galen's points of view. That really helped to fill out the story from each side.
Things I didn't like so much
I'm not usually a fan of present tense but I can usually live with it. In Of Poseidon, Emma's chapters are first person and Galen's are third person. Why the change? I really found the switching difficult to keep up with. Third person is all very well, but combined with present tense as well made it very difficult for me to keep up with what was going on when.
Galen. Creepy stalker-ish move across the country to go to Emma's school? Following her on a date with another guy? I mean really, the poor bloke was doing the best he could under the circumstances, but to Emma he should have looked a lot more like a stalker. He also kept major secrets from Emma throughout the whole book, which is very unfair. If he'd just told her what was going on a lot of heartache would have been spared!
Emma. She spends a lot of the book feeling sorry for herself (under the circumstances that is mostly fine), then flies off the handle at the slightest provocation. For example, 

Emma is told about some customs of an ancient culture that is different from hers, and rather than accepting that information respectfully, she flies off the handle. Granted, it is pretty horrible that Syrena girls are married off according to their suitability to produce offspring, but that's pretty much the way most species of animals do it in the world, and even humans until fairly recently. 

"Ohmysweetgoodness" is not a word. Honestly.
Killing off random friends to generate sympathy. Not a fan.
Of Poseidon is an encouraging debut from Anna Banks. Even with its interesting world-building, it did end up being predictable and more than a little shallow (sorry). I did enjoy it as a light-hearted read though, and I'll be keeping an eye out for the next instalment.
If you enjoyed Stephenie Meyer or Lauren Kate, give this one a crack. If you didn't, it's probably best to keep on swimming.
Warnings: Violence, sexual references
Of Poseidon

Prequel novella

#1: Of Poseidon

#2: Of Triton
Expected pub: May 2013
 What did others think of Of Poseidon?
"Of Poseidon was my first mermaid book, but the merfolk have found a friend in me.  It was funny and clever and highly entertaining." – The Starry-Eyed Revue

"I knew how the book would end in the second chapter. There's no anticipation, no mystery. Just incredibly slow characters. That is pathetic." – Steph at Cuddlebuggery
"Of Poseidon has ingredients like good plot, action and mystery we all want to solve, but the book failed to deliver those properly." – Pages From My Thoughts