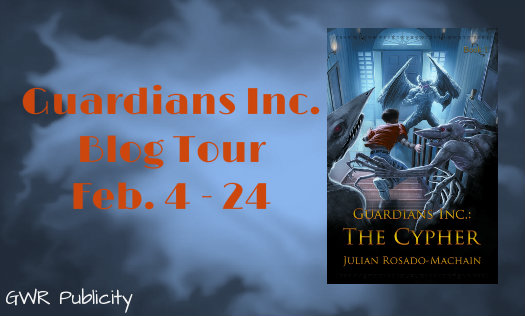 Welcome to The Oaken Bookcase's stop on The Guardians Inc. blog tour! Here's my review and an excerpt from The Cypher, as well as the opportunity to win a $75 Amazon gift card! You can find the giveaway form plus links to the other blogs participating at the bottom of the post.
The Cypher e-book is free throughout the tour! Download links are available below.
---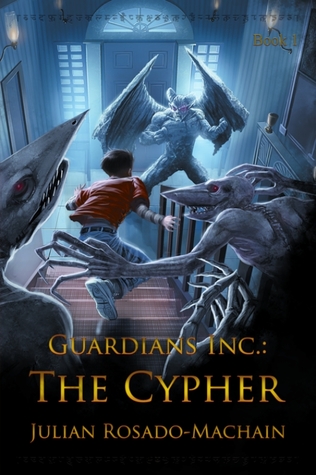 Title: The Cypher (Goodreads)
Author: 

 Julian Rosado-Machain (website)
Rating:





GUARDIANS INC.: THE CYPHER is two stories in one. A glimpse into a multinational company that is in reality the oldest of secret societies, one that spans close to seven thousand years of existence, weaving in and out of history, guiding and protecting humanity from creatures and forces that most of us believe are only mythology and fairy tales.
The other is the story of Thomas Byrne, a young man thrust into secrets he shouldn't be aware of and dangers he shouldn't face but, that he ultimately will, for he is a Cypher. The only one who can steer humanity's future.
The ultimate conspiracy theory is that Magic is real. Kept in check by technology but, every five hundred years the balance can shift and, if it does, technology will fail and those creatures we've driven into myth will come back with a vengeance.
To protect the present, Guardians Incorporated needs to know the future.
Details
Series: Guardians Inc. #1
Genre: Middle grade/Young adult paranormal/science fiction
Published: Createspace, February 2011
Pages: 238
*The Cypher is available in e-book formats for free throughout the tour!*
Paper copies: Amazon.com • Amazon.co.uk • Book Depository
E-copies: Amazon.com • Amazon.co.uk •  Barnes & Noble
Review
Thomas Byrne is almost sixteen when his parents go missing while on a cruise. His grandfather takes him in, and must try to find work to support them both. When Thomas and his grandfather answer an advertisement for a librarian position with Guardians Inc, they discover themselves involved in a grand adventure. Guardians Inc is a massive company tasked with ensuring that technology remains dominant in the world over magic. Every few hundred years, the balance is tipped and a Cypher – one who can read any language – must find a special text in order to save the world from ancient elemental magic. Thomas and his grandfather are both Cyphers, and the Magical world and the Technological Guardians must race to discover the Book of Accord before it's too late.
The Cypher is a very detailed first instalment in this series – there is so much to take in here in not many pages! I got the feeling it would be a little overwhelming for younger MG readers. The story is not only packed with the detailed history of the Guardians, but there's also quests, riddles and confrontations with strange creatures. There's even a touch of romance!
The one major problem that I found while reading it was that it's badly in need of more thorough editing. There were a few words out of place and the story just didn't flow well – I had to go back a few pages from time to time to work out what had happened. Despite this, the Guardians Inc. is a very interesting concept and I was able to suppress my inner editor and enjoy the story.
The Cypher is almost like a cross between Indiana Jones and The Da Vinci Code – ancient magics and mysteries to solve. It's a shame the editing let it down, but the confrontation between technology and magic is so imaginative I'll be interested to see where the story goes next.
Warnings: Violent but otherwise clean.
Excerpt
This is a little bit about Thomas first mission as a Cypher, and his first encounter with Tony, who will become part of his team later on.
Tony pulled the little yellow cocktail sword out of his mouth and hunched his shoulders. "I always imagined that the Cypher would be an old wrinkled man, or a hot, hot girl," he said with a thick New York accent and extended a hand toward Thomas. He had such a carefree attitude that Thomas immediately liked him.
Thomas took his hand. "Nice to meet you. I'm Thomas."
"I'm Tony Della Francesca," he said nodding toward his group. "Vani, Piero, the pretty lady with the sawed-off shotgun under her forearm is Bella." Bella clicked her mouth and leveled her arm at them letting them glimpse the two holes of a twin shotgun inside her jacket sleeve.
"And these two guys over here," Tony said as he walked toward the two remaining men who rolled their eyes as he approached, "are brothers. I'll bet you five bucks that you can guess the name of one of them if I give you one clue."
"Andiamo Tony, gia abbastanza!" one of the men said.
"He's a Cypher! It's a little field test, and you both shook on the bet, for life," Tony scolded them.
"We were drunk, Tony," the other grumbled. "And it got old three years ago."
"Tatatata," Tony shushed him. "Ten bucks, kid. What do you say?"
"Sure," Thomas answered. "What's the clue?"
The two men pulled out ten-dollar bills from their pockets with a dissatisfied grunt.
"This big guy's name," Tony said tightening his grip around the man's shoulder, "is Luigi."
Thomas let out a chuckle. "So you must be Mario, right?"
Tony clapped and snatched the bills from their hands and immediately gave one to Thomas. "See boys? He's really a Cypher!" Tony then led Thomas by the shoulder. "We are the Central Park watchmen. We keep humans and Mashcrits on their own side of the fence."
"Mashcrits?" Thomas asked.
"Magical Critters, but don't let them catch you saying that. They hate it. Piero!" He nodded and the lean man threw a couple of yellow T-Shirts at them. On the front of the T-shirts was the stylized Egyptian eye logo of Guardians Inc. "Neighborhood Watch" printed in bold letters on the back.
"The company set up a police permit to let us roam Central Park at night with our flashlights. We've caught some real weird Mashcrits and a couple of human thieves too." He led them through the park.
"This looks like a forest," Thomas said in awe. The trail they followed through the park entered through very thick vegetation.
"Designed to look like one by Olmsted and Vaux since 1858," Tony said, "with help from the chief of the fauns, Husseha, himself. This is the Ramble. We have the Great Lawn on the other side of the road and The Lake to the south. Here the Mashcrits can go out at night and have their fun. I prefer the East Meadow myself."
"And how big is this place?" Thomas pushed away a branch that almost whiplashed him as Tony walked by it.
"The whole thing is almost 850 acres. The Ramble is just 38, but it's like a forest isn't it?"
"Sure is."
"That's how the Mashcrits want it. It gives them the chance to hide or run away if someone approaches."
"And how many… Mashcrits do you have here?" Thomas couldn't resist asking.
"Well, we deal with three basic Mashcrits types in Central Park. There are the Fauns that own the place, the Fae that come and go with the seasons, and the Drifters, some of whom we have to convince the hard way to leave." He pointed with his thumb at Henri. "Big guy here knows about Drifters. Don'tcha?"
"Werewolves in Brooklyn," Henri said from behind them.
"They still haven't fixed that place you brought down." Tony gave the grotesque thumbs up. "Classic Henri."
"Lots of fun." Henri chuckled. "Is Tinamra still mad?"
"Oh yea, that lady wants to clip wings badly. Anyway," Tony continued, "we have an understanding with Husseha, Chief of the Fauns. So when his sons began to act up, he called us, we checked out what was happening, and then we called you."
"So what exactly happened?" Thomas asked. They'd left an established path and were now walking toward a formation of rock over a small hill. The forest grew thicker around the hill and they had to use both hands to get through the vegetation. It was as if the plants themselves resisted their passing.
"That's what you're here to find out, kid." Tony tapped the rock using a gnarly twig he pulled from his pocket, and the rock opened up forming a tunnel for them to walk through. "Let's go. Bella, keep watch," Tony said as Thomas, Henri, and Bolswaithe entered the tunnel.
Thomas felt like he was on the inside of a mole's tunnel. The tunnel had been dug out by hand, or claw, and half-chewed roots sprouted from between the scrape marks on the walls. Rope lights ran along the sides and center of the ceiling.
After a short trek, they arrived at a circular door guarded by two creatures in armor. Thomas could see two slender furry legs ending in hooves under their metal armor. Their helmets, however, were completely closed and antlers protruded from the back of them. They had slender arms with four fingers instead of five, and they carried a lance with ribbons tied under the blade.
Tony spoke in a strange language, and the guard on the left responded in a shrilly voice. Tony pointed at Thomas and then at Henri as he spoke and he seemed to be slightly angry.
The Fauns answered with a couple of short words, snorts, and crossed their lances over the door. Tony nodded and turned to Thomas.
"We can go in," he said looking at Bolswaithe and Thomas, "but Henri has to wait out here. They claim that half-breeds will pollute their flux well."
Henri cracked his knuckles and took a deep breath. Whatever half-breed meant had really angered him.
"I'll be here," Henri said and crouched on the ground, transforming into the smaller immobile statue that he usually adopted when he was at the entrance of the mansion.
The Fauns uncrossed their lances and the inner door opened revealing a cave full of small clay buildings and fluorescent vegetation. Their tunnel entrance was located on a ledge above the main floor of the cave. A couple of hanging bridges led from their ledge to another on the far side of the cave and a waterfall opened directly from a tunnel on the opposite wall forming a river that crossed through the city and ended in a lake surrounded by little clay houses. The city was illuminated from the ceiling by hanging circles of fluorescent lights and reflectors that hung in concentric circles from the roof.
It was the largest cave Thomas had seen, but it was still small compared to the library.
"Welcome to Hussahassalin, underground dwelling of the Hassa clan Fauns." Tony led them into the city.
Fauns filled the city streets. Without their armor and helmets they resembled white-tailed deer. Most of them jumped to and fro, but the fauns with the largest antlers walked slowly and deliberately, their heads high. They had painted designs on their cheeks and colored rocks adorning their antlers. Some wore elaborate clothing like in movies about the old courts in France and England, but most of them wore simple vests and coats. As they walked through town, fauns would stop and exchange words to one another, and throw curious looks at them, their little white tails wiggling as they spoke in their sibilant tongue.
"They might look cute," Tony whispered, "but these guys can really mess you up if they want to."
Just a little adventure under NY City… I hope you'll be interested to know more about Thomas, Tony and Guardians Inc. The Cypher. You can download it from all ebook stores for a limited time!
Happy reading,
Julian Rosado-Machain
About the Author
Julian Rosado-Machain has enjoyed pizza in three continents, BA in Graphic Design, worked building armored vehicles, handcrafted alebrijes, owned a restaurant and swears that he has seen at least one ghost.
A Mexico City native he now lives in San Diego, California and enjoys the sun with his wife, three children and cat.
Guardians Inc. The Cypher is the first book in a series that describes the creatures and powers that live in the world within our world.
The Tour
Feb. 4 Alli's World – 10 Things You Didn't Know (about the book & author)
Feb. 5 Living, Learning, and Loving Life How to Avoid the Rejection Blues
Feb. 6 Library Girl Reads & Reviews M interviews Thomas
Feb. 7 Bookshelf Review & Tips for Being a Better Writer
Feb. 8 Trendy Mom Reviews Find out what Julian's office is like
Feb. 9 Mrs Mommy Booknerd's Book Reviews Excerpt
Feb. 10 Java John Z's Giveaways and Reviews Review & character guest post
Feb. 11 Girl Who Reads Meet the Author Monday
Feb. 12 It's About Time Mamaw Character Guest Post
Feb. 13 Ask the Author at http://guardians-inc.tumblr.com/
Feb. 14 Lindsay and Jane's Views and Reviews Review & Author Interview
Feb. 15 Pulling Down Books Review
Feb. 16 KY Bunnies Author Interview
Feb. 17 Cabin Goddess Review & Excerpt
Feb. 18 The Oaken Bookcase Review & Excerpt
Feb. 19 Classic Children's Books Review
Feb. 20 Keeping Up With The Rheinlander's Character Guest Post
Feb. 21 Larkin's Book Bloggers Review & author guest post
Feb. 22 Recent Reads Review & Excerpt
Feb. 23 Logan's Loco Reads Review & character guest post
Feb. 24 Tamara's One Stop Indie Shop Excerpt