Welcome to Cover Lover, where I share my favourite covers! Hannah  of Once Upon a Time is the inventor of this particular "meme", so head over there to see the covers she's already shared.
Robin Hobb has been one of my favourite authors for a long time now – pretty much from when I discovered the fantasy shelves in my high school library (wow, that's a long time ago now). I bought these Liveship trilogy as each was released, and I remember this final volume making me cry, even though it's probably a good ten years since I read it. Must be time to put them on the re-read pile!
This beautiful cover caught my eye this afternoon as I was reorganising my shelves a little. Sea serpents, dragons and liveships, oh my!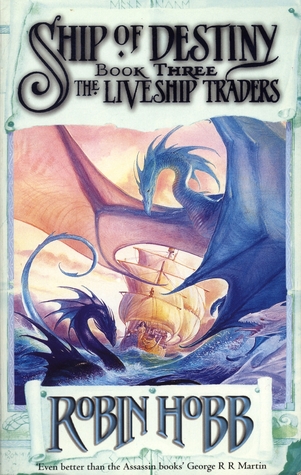 Title: Ship of Destiny (Goodreads)
Author: Robin Hobb (website)
Series: The Liveship Traders #3 of 3, Realms of the Elderlings #6 of 6
Genre: High Fantasy
Published: Voyager, 2001 (first published 2000)
Goodreads Blurb for Ship of Destiny:
Robin Hobb concludes her nautical fantasy epic with Ship of Destiny, set in the world of her Farseer series. It lives up to its predecessors, Ship of Magic and Mad Ship in every way: the characters continue to develop, the plot moves swiftly, and the setting is vividly realized.
Again, three generations of Vestrit women are at the heart of the story. Ronica, the matriarch, stands alone against accusations that her family is responsible for the chaos that has overtaken Bingtown. She fights to uncover treachery and maintain the Trader's Council. Her daughter, Althea, sails on the disturbed liveship Paragon, hunting for Vivacia, the Vestrit's liveship, now the flagship of a pirate fleet under Kennit, who is both ruthless and compassionate. Her granddaughter, Malta, has disappeared following an earthquake in the ancient treasure city by the Rain Wild River. Her fiancé, Reyn, and her brother, Selden, are trapped while seeking her. They are rescued by the dragon Tintaglia, whom they helped liberate. Reyn asks Tintaglia's aid in finding Malta, but Tintaglia has her own urgent mission to accomplish, one which will change everything.