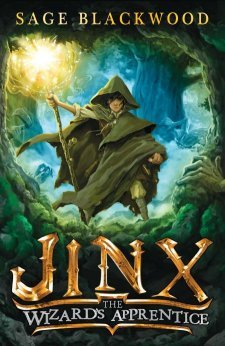 Title: Jinx: The Wizard's Apprentice (Goodreads)
Author: 

 Sage Blackwood
Rating:





It's not every day that your evil stepdad abandons you in the deep, dark forest of Urwald. And it's not every day that a wizard rescues you from the clutches of gnarly trolls. But for Jinx, this isn't turning out to be a very normal sort of day…
The bubbling cauldrons and coloured potions of the wizard's house are a world away from the life Jinx has left behind. Even the walls are soaked in magic, and it's not long before Jinx begins to unlock his own rare powers.
But Simon Magus is no ordinary wizard. He seems to need something from Jinx – something dark. And Jinx begins to wonder: can he trust Simon… at all?
Details
Series: Jinx #1
Genre: Middle-grade fantasy
Published: Quercus, February 2013 (also HarperCollins Childrens Jan 2013)
Pages: 360
My copy: For review via The Book Depository's review program
Get your copy from Book Depository!
<!– the identifier in the following script tag can be a GR book id or an isbn –>
Review
Jinx lives with his step-parents in a clearing within the Urwald – a vast forest teeming with nasty creatures and nastier wizards and witches. One day, Jinx's stepfather decides he can no longer support the boy and takes him out into the forest to abandon him. Unfortunately for Jinx's stepfather, they cross paths with Simon, an evil wizard. Simon offers to buy the boy instead and takes him home to do chores for him. He doesn't seem that evil to Jinx, but can he really be trusted?
At first glance you may think that this book is another Harry Potter-ish clone, but while there are similarities, Jinx is quite a different story altogether.
Jinx's story is told entirely from his ten-year-old point of view, but through his observations of the adult characters in the book, I got the feeling that there is a deeper story here that makes it all the more interesting for an adult reading it. Magic is performed by drawing on power, which can be stored in objects. Evil wizards (or those with less morals) can draw power from the lives of others. As Jinx learns more about magic and how wizards obtain and store power, we're never quite sure whether all wizards are evil or just various shades of unpleasant. Is Simon, who seems kind enough to Jinx at first, actually performing evil death magic on him?
Jinx is a very determined little boy – he wants to get out and see the world, and feels trapped living with Simon. Once he's set on his quest, he begins to question everything and must stick to his beliefs and trust in his own power to get through the coming trials. He's quite a grumpy child at times, but is also quite cheeky and there are some very funny moments as he interacts with the world around him.
The only thing I disliked about Jinx is that a lot of the action seems to happen in dialogue between the characters – a device which doesn't describe what's actually going on all that well. Apart from those few occasions, I thought this was a very well-written debut with plenty of scope for future tales.
Jinx is a fantasy that doesn't take itself too seriously, and sets a perfect tone for its intended audience. Highly recommended for the middle-grader in your life, or for anyone to enjoy, for that matter!
Warnings: Violence against monsters.