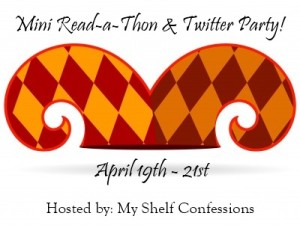 It's My Shelf Confessions' blogaversary and they are having a mini-read-a-thon as part of the celebrations!
There are no rules, just reading for this read-a-thon! I've got a stack of books to get through at the moment so we'll see how far I can get in a few days.
Make sure you visit My Shelf Confessions to see all the guest posts they've got planned for this week, as well as enter some amazing giveaways!
I'll be posting updates on my progress on this post over the weekend.
Book list
If I can get through these three over one weekend, I'll be so happy!
Updates
19th
Today's progress: These Old Shades, Georgette Heyer – page 142-250
Total pages so far: 108
Comments: Had a busy day at work today so I didn't get much time to read during the day, but did get a fair bit of time this evening. Loving the characters in this book!
20th
Today's progress: These Old Shades, Georgette Heyer – page 250-347 (end). The Seers: New World Order, M.D. Kaczowski page 1-58, Harry Potter and the Prisoner of Azkaban, JK Rowling – page 80-156
Total pages so far: 339 (231 today)
Comments: I'm re-reading Harry Potter books while I sit waiting for my Sproutling to go to sleep in the evenings, so I'm gradually making my way through HP3! I finished These Old Shades today – what a romp! I've read a couple of Regency novels recently and I'm fascinated by the eccentric people in both French and English society! This was a bookclub read so we'll be discussing it next week. Certainly a lot more exciting and amusing than some historical fics I've read!

21st
Today's progress: None!
Total pages so far: 339
Comments: So, today I went to the Supanova Expo at the Gold Coast, and thus got absolutely no time to read *ashamed*. I'm now so worn out I'm going to crash, but I think 340 pages is pretty good for me over a  weekend!