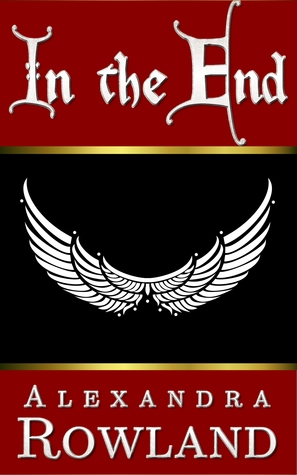 In The End (Goodreads)
Author: 

 Alexandra Rowland (website)
Follow @_alexrowland
Rating:





The Fallen Angel Lucien never expected the world to end. Inconveniently enough, it did. He and Lalael, an angel of the Higher Realm, are abandoned to make their way in what's left of the world.
It has changed, however. Uncountable humans have died or vanished, and leftover groups are determined to survive however they can, fighting off new dangers and killing anything they do not understand.
But demons were not the only thing released into the world at the End: A strange new power fills the world, and no one knows what this might bring.
Details
Series: Stand alone
Genre: Paranormal/Apocalyptic Fantasy
Published: Self-published, June 2012
Pages: 299
My copy: from the Author for review
Paper copies: Amazon.com • Amazon.co.uk • Createspace
E-copies:  Amazon.com • Amazon.co.uk • Smashwords • Barnes & Noble
Or you can download the first couple of chapters for free, here!
Review
I seem to have ended up reading quite a few apocalyptic angel/demon stories lately. I thought that In the End would be another slightly depressing, fire and brimstone end-of-the-world thriller, but I was very pleasantly surprised to find that, as well as being quite thrilling at times, this story is also very funny. The blurb doesn't really give that away at all, but yes, this is a snarky comedy.
The Fallen Angel Lucien has been based on earth for several years now, and is just starting to wonder if he might be able to stay here forever when the trumpets sound and the Last Days arrive. The souls of the believers are taken, and Lucien rushes to the battle ground and sees the hosts of Heaven (Ríel) and Hell (Rielat) fighting for supremacy. In the confusion he runs into an angel who mistakes Lucien for a demon and tries to kill him, but as they are fighting, the battle somehow ends and the angels and demons disappear, leaving Lucien and the somewhat bewildered angel, Lalael, stranded. Lalael is angry and confused as to why he should be left behind, not to mention baffled as to why Lucien, a fallen and cursed angel, should be so kind to him. Lucien takes Lalael back to his apartment to meet his cat, Antichrist.  The unlikely friends must try to find their place in this new, post-apocalyptic world, and maybe even find a way back to Ríel.
Firstly, let me just say that Alexandra Rowland is certainly a talented author. This story gripped me all the way through – the action scenes were brilliant and the banter between Lalael and Lucien, while occasionally silly, lifted the whole tone of the story. The two angels have very strong personalities and their relationship is the highlight of this story for me. Loved them, need more please!
There were, however, some things that genuinely confused me about this story. The plotline is a little odd. Here we are, travelling from one community of humans to the next trying to find somewhere to fit in, when Jocelin shows up and the whole story just changes into something in quite a different direction. I'm still not sure who or what Jocelin is and what Jocelin is supposed to represent. Also, we never find out what happened to Ríel and the souls taken from earth. I really hope there's another story coming to follow up, because the whole tale felt a little unfinished to me.
My issues with plot aside, I really did enjoy reading In the End. It's a very dry and witty take on the apocalypse, and a well-written debut. I hope there's more to come from Lucien and Lalael!
Warnings: Strong violence including torture.
What did others think of In the End?
"I recommend In The End if you're a fan of Neil Gaiman style fiction. It's a really unique novel well worth a read." – Once Upon a Time
"The language is playful and mood-appropriate.  The creativity is humbling.  It is sophisticated entertainment." – Heather McNamara
"…I was really impressed that the humour in In the End felt genuine and the characters were so skilfully brought to life in just a few sentences. Well…for the most part." – SFF Chat