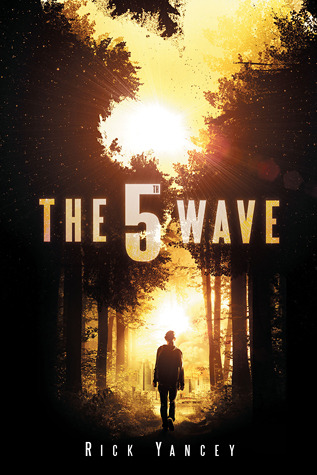 The 5th Wave (Goodreads)
Author: 

 Rick Yancey (website)
Follow @RickYancey
Rating:





The 1st Wave took out half a million people. The 2nd Wave put that number to shame. The 3rd Wave lasted a little longer, twelve weeks… four billion dead. In the 4th Wave, you can't trust that people are still people. And the 5th Wave? No one knows. But it's coming.
On a lonely stretch of highway, Cassie runs from Them. The beings who only look human, who roam the countryside killing anyone they see. Who have scattered Earth's last survivors. To stay alone is to stay alive, Cassie believes, until she meets Evan Walker. Beguiling and mysterious, Evan Walker may be Cassie's only hope for rescuing her brother—or even saving herself. But Cassie must choose: between trust and despair, between defiance and surrender, between life and death. To give up or to get up.
Details
Series: The Fifth Wave #1
Genre: Post-Apocalyptic Science fiction
Published: Penguin, May 7, 2013
Pages: 460
My copy: via the publisher
Paper copies: Amazon.com • Amazon.co.uk • Book Depository
E-copies:  Amazon.com • Amazon.co.uk • Barnes & Noble
Read a preview for free here, or for kindle you can get the sample for free from Amazon.
Review
Cassie is all alone, hiding in the forest. Her father was so excited about the "visitors" arriving, but now her parents are dead, most of the human population wiped out and her five-year-old brother has been taken away by soldiers. She promised she'd find him and look after him, but the military base is far away and impenetrable. How will she get there and find Sammy if she can't trust anyone to be human?
The 5th Wave is a raw and rather heartbreaking story of just how things could play out in an apocalyptic situation. When you can't even trust your fellow humans not to kill you on sight, or even to not be an alien in disguise, how are you supposed to survive?
When I finished this book I gave it five stars right away, but after a bit of consideration I decided to downgrade it to four stars instead. Let me see if I can describe why in a coherent way.
What I loved
The premise – alien invasion! I'm not sure if I've ever actually read a book about aliens invading Earth but wow, it's scary stuff to consider! Power lost, world thrown into confusion and people dying from a horrible disease left, right and centre – and people losing their families, not just to the invasion, but to other humans fighting to survive. It's heartbreaking, and terrifying, and makes a cracker of a story. 
The action – the action scenes are edge-of-your-seat tense. I couldn't stop reading because I was terrified that anyone could die at any moment!
Evan – such a tortured character! I won't say more in the interest of spoiler avoidance, but wow, that guy is two parts creepy and one part sweetheart.
What I didn't like so much
There's a love triangle. Okay, so there's only a whiff of one, but I have a nasty feeling it's going to come back to bite in the next book. I know Cassie is only sixteen, but her behaviour towards Evan is incredibly hot and cold. Even after she finds out the truth about him she's still torn as to whether she's in or out. Then when Ben's back on the scene, after all they've been through, it turns out she's still a bit giddy. Okay, old lady alert – I'm sure there are those who love it.
Young children in combat. The children are the future, yes. They are also the most impressionable and easily indoctrinated to fight against the invaders. But seriously, anyone under 10 is not going to be able to perform in a combat situation. Also, these kids have just been through harrowing disasters in which they lost their entire families and homes. Is it really a good idea to arm them and place the future of the world in their hands?
After all that, I think I liked Cassie but I didn't love her. She's incredibly determined and resourceful, but at the same time is often a very terrified teenager. I guess I just couldn't get past the part where she meets Evan ("Omg, saved by a guy I've never met before and shouldn't trust, but he's SO HOT!").
I found The 5th Wave to be a very tense and exhilarating read. I'll look forward to seeing what the future brings for the world, as soon as I pop down to the shops and stock up on canned food and water!
Warnings: Strong violence.
What did others think of The 5th Wave?
"It's the kind of fast-paced and compelling read that will grab teen readers and leave them wanting more." – Lost in a Great Book

"This book was so crazily addictive that I read it in literally half a day, and several months afterwards I am still jazzed over its edge-of-your-seat action." – The Midnight Garden – Enter the giveaway!
"Think of a character in apocalyptic movies that you would hang with to survive, Cassie is that person. She is Daryl Dixon in The Walking Dead. Well, you know what I mean." – Novels on the Run