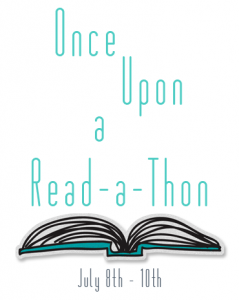 I'd like to take a brief break in my Aussie Fantasy month to let you know that the Once Upon a Read-a-Thon is on over the next few days, from July 8 to 10!
The read-a-thon is hosted by Angela & Loretta at Reading Angels, Candace at Candace's Book Blog and Lori at Pure Imagination. You can find out more information and sign up at Pure Imagination, and keep track of twitter happenings by following @OUReadathon!
I'll be updating this post each day with my progress. All the books on my reading list are part of my Discover Aussie Fantasy feature this month, so if you're interested in them, check back soon to see my review!
Reading list
Updates
8th
Today's progress: Long Lost Song, Stephen C. Ormsby – pages 36 to 123 (large format)
Total pages so far: 87
Comments: An interesting read so far! As a self-pubbed work it does have some typographic errors, but on the whole a very well-put-together story and building up to something very exciting.
A usual Monday for me today for most of the day, until the evening when my computer decided that booting Windows wasn't worth the effort. More reading time for tonight, but I think I know what I'll be doing tomorrow night now… :-/
9th
Today's progress: Long Lost Song, Stephen C. Ormsby – pages 124 to 242 (end)
Total pages so far: 205
Comments: My copy of Long Lost Song is a large-format paperback, so even though there aren't many pages, they have a lot of words! I really quite enjoyed it – a great end-of-days type story.
10th
Today's progress: Aurora: Darwin, Amanda Bridgeman – first 6%. Harry Potter and the Deathly Hallows, JK Rowling – pages 180-230
Total pages so far: 287
Comments: A proper sci-fi this time – Aurora: Darwin is very interesting at the start. A group of three women join the all-male crew of a space ship for a mysterious mission to a distant colony near Mars. Looking forward to getting stuck into this one properly! Didn't get a lot of time to read today, except for when I was putting my little one to sleep – managed to fit a bit more Harry Potter in then 😉
In total, not a great three days' worth of reading, but not too shabby. I hope everyone else enjoyed the read-a-thon 🙂