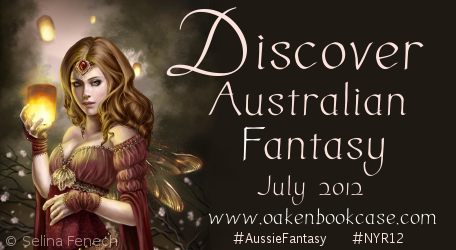 Did you know that 2012 is the Australian National Year of Reading? The theme for July is "Discover", so The Oaken Bookcase would like to invite you to Discover Australian Fantasy with us.
During July, Angelya and some intrepid guest posters will be reading and reviewing Fantasy books by Australian Authors.
Reviews
Other Articles
The Giveaway
We have a great selection of books to give away during July! All the details can be found further down on this page.
Why Fantasy?
Fantasy is my favourite genre to read, write and watch. It allows an escape from the pressures of every day life and allows imagination free reign.
In the foreword to his collection of interviews with fantasy authors, The Wand in the Word, Leonard S Marcus writes:
Fantasy is storytelling with the beguiling power to transform the impossible into the imaginable, and to reveal our own "real" world in a fresh and truth-bearing light.
For the purposes of this feature I'm including high fantasy, romantic fantasy, paranormal fantasy and a dash of dystopia. I'm also hoping to include adult, young adult and middle grade age groups in the mix.
Why Australian?
While reorganising my to-read list recently, I realised that there were quite a few books by Aussie authors sitting on my shelves that I hadn't actually read. I looked a little further and found there is a wealth of fantasy out there written by Aussie authors.
When asking a few people if they'd be interested in joining in with an Aussie fantasy month they said "Oh, but I don't know any fantasy books by Aussie authors." Well my friends, there are plenty. So many in fact that I may have to make this a regular event. In any case, I'm hoping to show you a few over the next few weeks. I hope you find something to add to your to-read list!
The Banner
The gorgeous artwork in the banner above is called Floating Lights and the artist, the awesome Selina Fenech, kindly allowed me to use it to promote this feature. You can see more of Selina's beautiful fantasy artwork and books at her site, selinafenech.com.
---
The Giveaway
I have a fantastic collection of books to give away during July! There will be two prize packs, and two lucky winners. All of these titles are by Australian Fantasy authors and will either be reviewed or featured on The Oaken Bookcase this month.
You can enter via the Rafflecopter form below the giveaway details. I've tried to make it easy by only including a few extra entries – they're only to help spread the word and help out the lovely people who donated prizes.
Good luck! Thanks very much to those who donated prizes!
Prize Pack 1: Paper Book Pack
A signed copy of Obernewtyn, Isobelle Carmody
One more hard copy book of the winner's choice from the list of books reviewed during July on The Oaken Bookcase. A list of reviews is further up on this page!*
A fairy bookmark featuring artwork by Selina Fenech!
I am planning to add more things to this pack – check back for updates later in the month.
* Please note, if I am unable to source a hard copy of your chosen book, I may offer you an e-book version instead.
Prize Pack 2: Enormous Book Pack

---
Details:
There will be two winners. The first winner will choose which prize pack they would like, then the other pack will go to the second winner.
I will snail-mail the hard copies of books to the winner of Prize Pack 1. The books making up prize pack 2 will be sent to the winner directly from Momentum, Book Depository or myself.
The giveaway is open internationally, as long as the Book Depository ships to your country (go here to check).
The giveaway will run until the end of July.
The winners will be contacted by email and have 48 hours to respond.