This review is part of the Discover Aussie Fantasy feature, running during July on The Oaken Bookcase. You can find details of the feature and enter the giveaway on the Aussie Fantasy page!
---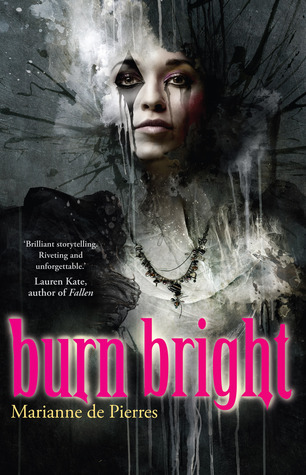 Burn Bright (Goodreads)
Author: 

 Marianne de Pierres (website)
Follow @mdepierres
Rating:





In Ixion music and party are our only beliefs. Darkness is our comfort. We have few rules but they are absolute . . .
Retra doesn't want to go to Ixion, the island of ever-night, ever-youth and never-sleep. Retra is a Seal – sealed minds, sealed community. She doesn't crave parties and pleasure, experience and freedom. But her brother Joel left for Ixion two years ago, and Retra is determined to find him. Braving the intense pain of her obedience strip to escape the only home she's ever known, Retra stows away on the barge that will take her to her brother.
When she can't find Joel, Retra finds herself drawn deeper into the intoxicating world of Ixion. Come to me, whispers a voice in her head. Who are the Ripers, the mysterious guardians of Ixion? What are the Night Creatures Retra can see in the shadows? And what happens to those who grow too old for Ixion? Retra will find that Ixion has its pleasures, but its secrets are deadly. Will friendship, and the creation of an eternal bond with a Riper, be enough to save her from the darkness?
Listen well, baby bats. Burn bright, but do not stray from the paths. Remember, when you live in a place of darkness you also live with creatures of the dark.
Details
Series: Night Creatures #1
Genre: YA Dystopian sci-fi
Published: Random House Australia, March 2011
Pages: 316
My copy: library
Paper copies: Amazon.com • Amazon.co.uk • Book Depository
E-copies:  Amazon.com • Amazon.co.uk • Bookworld (epub)
Review
Burn Bright was an edge-of-your-seat thriller all the way through for me. I had trouble putting it down, reading with a sort of fascinated horror as Retra tried to make her way on the island of Ixion.
Retra's brother Joel ran away to the mysterious island of Ixion to get away from the repressive society in the Seal South community – where every interaction is strictly controlled. After his disappearance, Retra's family is subjected to disruptive surveillance, and eventually she musters up her courage and breaks out of the compound, jumping the ship bound for Ixion.
Ixion is a pleasure island of endless night, where all are young and uninhibited. They party around the clock, as on arrival their metabolism is altered to not require so much sleep. Retra immediately finds it difficult to fit in as a "Seal" and is terrified by the licentiousness of the other inhabitants, but she must steel herself and try to blend in as she tries to locate Joel. What she finds along the way is terrifying – just how much control do the Ripers have over the residents of Ixion, and where is it that the older people are "withdrawn" to? Just who can she trust in this strange new world? And who, or what, is whispering to Retra from the shadows?
Burn Bright reminded me of the Divergent series to a certain extent – Retra must overcome her fears and step out of her comfort zone in order to move forward in this strange world, and she manages to hold onto her own identity just as Tris does in Divergent.
The tone of the whole story is quite dark and creepy, and although there are occasional light-hearted moments the overwhelming feeling I got was that this was less of a party island and more of a haunted house ride at a theme park. I know there are plenty of young people out there in the world who would rather party night and day more than anything and I'll be the first to admit I wasn't one of them, so I was right there with Retra when she arrived, bewildered and slightly terrified on the island.
The characters are amazingly imagined in this night world – I especially loved Retra's friends Suki and Rollo and their interactions and the vampire-like Ripers are especially creepy despite many of them being described as "beautiful". There is a bit of a love triangle in this first part of the trilogy but no real romantic scenes. The romantic aspect is possibly the only thing that I didn't enjoy about this story – not the actual lack of romantic interactions but that Retra, despite coming from a tightly controlled community where she wasn't even allowed to talk to any boys, is strongly attracted to several in a short space of time. It all seemed slightly too quick, but I'll still be interested to see where it all goes after this.
Marianne de Pierres usually writes hard sci-fi, but as her first foray into the Young Adult market I think she's done very well with crafting this book to appeal to younger readers. I'll be reading some of her other works at some stage – I really enjoy her storytelling style.
By the end of this first book in the trilogy there are still a lot of unanswered questions – I won't spoil anything by listing them but let's just say that I am really very keen to get my hands on the second book as soon as I get an opportunity! If you're interested in a YA sci-fi with a dark twist, try Burn Bright!
Warnings: Violence, sexual situations (some abusive, but none explicit), drug use
Night Creatures trilogy
| | | |
| --- | --- | --- |
|  1. Burn Bright – March 2011 |  2. Angel Arias – Oct 2011 |  3. Shine Light – Nov 2012 |
About the Author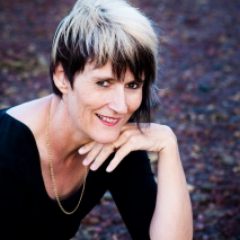 Marianne de Pierres is the author of the acclaimed Parrish Plessis and award-winning Sentients of Orion science fiction series. The Parrish Plessis series has been translated into eight languages and adapted into a roleplaying game. She's also the author of a teen dark fantasy series.
Marianne is an active supporter of genre fiction and has mentored many writers. She lives in Brisbane, Australia, with her husband, three sons and three galahs. Marianne writes award-winning crime under the pseudonym Marianne Delacourt. Visit her websites at www.mariannedepierres.com andwww.tarasharp.com and www.burnbright.com.au