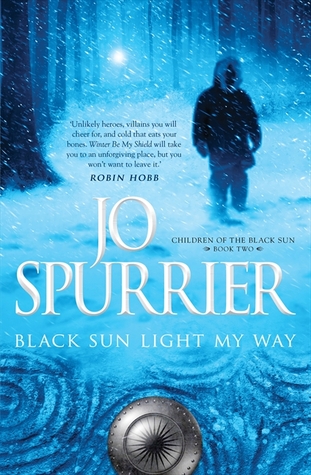 Black Sun Light My Way (Goodreads)
Author: 

 Jo Spurrier (website)
Rating:





Sierra has always battled to control her powers, but now her life and Isidro′s depend on keeping her skills hidden from the Akharians as they draw closer to Demon′s Spire. In the relics left by Ricalan′s last great mage, Isidro hopes to find the knowledge Sierra needs to master her powers, but instead uncovers his own long-buried talent for magecraft.
When Sierra′s untrainable powers turn destructive, she has nowhere to turn for help but to the uncertain mercy of an old enemy. What will Rasten do when she returns to his hands at last?
When Isidro believes he has lost all he loves, he finds comfort in the arms of the Akharian mage Delphine. But soon he is called into battle once again to stand against the greatest evil the north has ever known.
Details
Series: Children of the Black Sun #2
Genre: High Fantasy
Published: Harper Voyager, June 1 2013
Pages: 480
My copy: library
Paper copies: Bookworld • Booktopia
E-copies:  Amazon.com • Bookworld (epub)

Please note: This review is for the second book in the Children of the Black Sun series and so contains spoilers for the first, Winter Be My Shield. You may wish to read my review for that book first!
---
Review
The second book in the Children of the Black Sun series delivers even more excitement, suffering and sparkly magic than the first book did, in rather unpredictable ways. I had a lot of trouble putting it down – certainly no second-book curse to be found here!
It was a full year ago that I read Winter Be My Shield, so the details of the story were a little hazy. Unfortunately there is no recap at the start of Black Sun Light My Way so I struggled for the first few chapters to remember what had just happened. I'll try to summarise.
Isidro and Mira have been captured and are now slaves belonging to an Akharian mage scholar, Delphine. She knows Isidro is a "sensitive", so is using him to help her to find the lost cache of lore left by the great mage Vasant. Sierra has agreed to help her former tormentor, Rasten – to train with him to use her corrupted powers properly and help him bring down their master, the great mage and general psychopath, Kell. She is about to allow herself to be captured by the Akharians to join Isidro and assist him to find the lost mage lore, to expand her powers and hopefully be able to use that over Rasten when next they meet.
This story is certainly not for the faint-hearted. There's a LOT of torture and rape is frequently mentioned even if it's not described in explicit terms. I can't quite remember if the first book was quite as dark as this instalment, but wow, I certainly needed to read something a bit lighter once I got to the end of it all!
Despite the darkness, this is an absolutely enthralling world. The magic system is amazing, with corrupted sympaths drawing power drawn from pain or pleasure – usually through torture and humiliation of others. The system has painstakingly detailed rules and rapidly expanding lore – I hope we get to learn more about the Akharian mages, as well as the lost Ricalani magic.
The characters are what makes this story really come to life. Poor Sierra! With her power draining everyone around her, she is forced to leave her friends. I found it a little off-putting that she would immediately run into the arms of another, but even more strange to me was the path that Isidro took as soon as Sierra left – without spoiling anything, I suppose depression can make people do unexpected things, and Isidro does spend a fair amount of time down in the dumps. Rasten's growth as a character is brilliant – I was really cheering for him there by the end! Delphine being part of this story lent an interesting cultural contrast between the Akharian and Ricalani cultures, with the Ricalani's communal living and multiple wives baffling her.
There were so many unexpected turns in this story, I have no idea where it can all go next, but I can't wait to read more in this cold and cruel world, although I am slightly worried about what more Jo Spurrier can put her characters (and readers) through! Highly recommended to high fantasy fans, but just be forewarned about the grisly nature of the story.
Warnings: Plenty of graphic violence, torture, sexual scenes (some abusive)
What did others think of Black Sun Light My Way?
"This series is also perfect for those looking for something outside of the usual sword-and-sorcery of high Fantasy, and it is a great entry point for newcomers to the genre." – Speculating on SpecFic
"The numerous characters really shine in this book. They are full of personality and felt so real. Their bravery and loyality is unshakable, willing to do whatever it takes to ensure the people they love are safe." – R. L. Sharpe