Welcome to the first review in The Oaken Bookcase's Discover Australian Fantasy month! You can find more information about the feature and links to other reviews on the Aussie Fantasy page.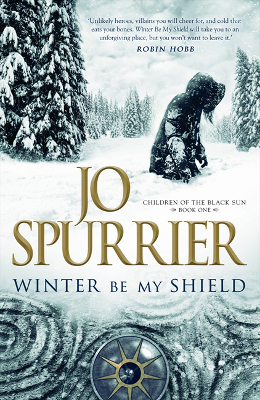 Title: Winter Be My Shield (Goodreads)
Author: 

Jo Spurrier
Rating:





Sierra has a despised and forbidden gift — she raises power from the suffering of others. Enslaved by the King's Torturer, Sierra escapes, barely keeping ahead of Rasten, the man sent to hunt her down. Then she falls in with dangerous company: the fugitive Prince Cammarian and his crippled foster-brother, Isidro.
But Rasten is not the only enemy hunting them in the frozen north and as Sierra's new allies struggle to identify friend from foe, Rasten approaches her with a plan to kill the master they both abhor. Sierra is forced to decide what price she is willing to pay for her freedom and her life …
Details
Series: Children of the Black Sun #1 of ?
Genre: Adult Fantasy
Published: Voyager Australia (HarperCollins), June 2012
Pages: 464
My copy: Digital ARC from the publisher via NetGalley, thanks!
Paper copies: Booktopia • The Book House • Book Depository
E-book copies: Amazon.com • Google books • Borders
Review
Welcome to the land of Ricalan – the snows are thick for six months of the year and the occupying Mesentreian empire are barely holding invaders at the borders. Sierra, a sorceress barely in control of her considerable powers, is on the run. Prince Cammarian and his brother Isidro are also in hiding, but there are invaders about and nowhere is safe. Winter Be My Shield is a story of magic, love, loss and sacrifice in a cold and dangerous world.
The magic system in Winter Be My Shield is awesome – power is built up through pleasure or pain, then released either in lightning or fire with brilliant, or in Sierra's case, unpredictable results. The magical scenes are described so well, I could imagine in detail the lightning arcing over her hands as she tries to hold the power in – awesome stuff! It's just a shame that Sierra blacks out during the major battle scene so we don't get to see her full powers in action!
The story is told from the point of view of several of the main characters, switching between chapters, and sometimes within chapters. This does allow us to see what's happening when characters aren't together, but I felt it meant that the character development was spread quite thinly. The characters we spend the most time in the heads of are Isidro and Sierra. Even so, I still thought I didn't really know Sierra by the end of the story, whereas I felt I knew Isidro better through all his suffering.
This book is not for the faint of heart – there's plenty of blood, guts and torture so it should appeal to fans of the A Game of Thrones "low fantasy" style. It's not quite on the same scale as A Song of Ice and Fire though – even though the world is large and reasonably well described and the political intrigue is there, the story is not as complex or confusing.
I really did enjoy reading Winter Be My Shield. Although it was a slightly longer read than other books I've read recently, it was exciting all the way through. My only gripe is that it seemed like it was building up to a big showdown at the end and then it kind of finished without warning. Hopefully it won't be too long until the next in the series is released!
This is a sizzling debut from Jo Spurrier and I can't wait to read more of her work.
Warnings: Plenty of grisly combat, torture and general blood and guts. Also, sex scenes and bad language. Did I mention it was gritty?
About the Author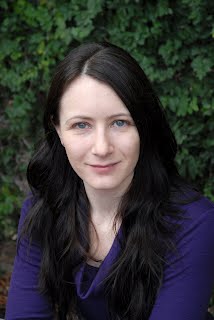 "Jo Spurrier was born in 1980 and has a Bachelor of Science, but turned to writing because people tend to get upset when scientists make things up. Her interests include knitting, spinning, cooking and research. She lives in Adelaide and spends a lot of time daydreaming about snow."
Bio and photo from jospurrier.com.au.
If, like me, you're wondering how an Aussie can write so convincingly about a world covered in ice and snow, Jo wrote an article on the research she did for Winter Be My Shield on Voyagerblog.com.au.