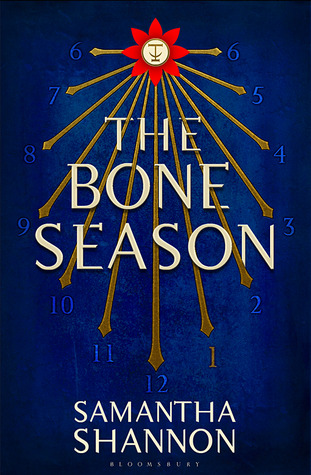 The Bone Season (Goodreads)
Author: 

 Samantha Shannon (website)
Rating:





It is the year 2059. Several major world cities are under the control of a security force called Scion. Paige Mahoney works in the criminal underworld of Scion London, part of a secret cell known as the Seven Seals. The work she does is unusual: scouting for information by breaking into others' minds. Paige is a dreamwalker, a rare kind of clairvoyant, and in this world, the voyants commit treason simply by breathing.
But when Paige is captured and arrested, she encounters a power more sinister even than Scion. The voyant prison is a separate city—Oxford, erased from the map two centuries ago and now controlled by a powerful, otherworldly race. These creatures, the Rephaim, value the voyants highly—as soldiers in their army.
Paige is assigned to a Rephaite keeper, Warden, who will be in charge of her care and training. He is her master. Her natural enemy. But if she wants to regain her freedom, Paige will have to learn something of his mind and his own mysterious motives.
Details
Series: The Bone Season #1
Genre: Dystopia/Paranormal Fantasy/Sci-fi
Published: Bloomsbury, August 20 2013
Pages: 480
My copy: the publisher for review
Paper copies: Amazon.com • Amazon.co.uk • Book Depository
E-copies:  Amazon.com • Amazon.co.uk • Barnes & Noble • Bookworld (epub)
Review
With a fast paced story, a strong heroine and a world described with exquisite detail, I enjoyed The Bone Season from beginning to end. I had heard a lot about how this was to be the next Hunger Games, the next big hit. While I'm not sure it quite hit that mark, I thought it was a brilliantly written debut that fans of the Hunger Games should certainly enjoy.
Paige is a clairvoyant – living in hiding in the criminal underworld from those in Scion London who believe her to be "Unnatural". Her gift is to be able to sense other people's dreamscapes and can influence others, even hurt them. She discovers that her abilities can even be deadly when she is discovered on the underground and kills two guards in self-defence. For that crime, she is arrested and sent to the penal colony of Sheol I, in the mysterious lost city of Oxford. There, she is introduced to the Rephaim – a strange race of humanoid beings who are living alongside voyant humans as their masters. All Paige wants to do is get away from her cold and aloof keeper, Warden, but as the weeks unfold it seems that the Rephaim are up to more than just keeping the world safe from the flesh-eating Emite beasts.
The Bone Season isn't actually publicised as Young Adult, but it reads a lot like a YA Dystopia with its young protagonist, fighting to release other young people from an repressive society. This is not a new story – in fact I can think of several books I've read recently that have quite a similar high-level storyline, but in the Bone Season we are treated to quite a unique take on it. The world that Samantha Shannon has created here is rich and incredibly detailed, not just the corporeal world of the Scion citadel of London and of Oxford's Sheol I, but also the etheral world – that of dreamscapes, spirits, soothsayers and guardian angels.
The world of Scion is a sort of alternative future, where the United Kingdom was rocked by some kind of event in the early nineteenth century. The Rephaim appeared from the aether and clairvoyants started appearing in the population. Fast forward to 2059 and London is now a Scion citadel, providing young voyants for the use of the Rephaim of Sheol I, or Oxford. It all has a slightly steam-punkish feel to it, although history seems to have continued in a similar fashion to the real world with Frank Sinatra music, computers and high heels still around.
The first few chapters of the story felt rather overwhelming at times, as the reader is thrown right into the thick of this world and its vernacular. There is a glossary at the back of some commonly used slang which might come in handy if you know about it before you get to the end! We only gradually learn about what has happened in the past and what the Rephaim actually are, and by the end of this first book in the series I still have a lot of questions about all manner of things in this world. The Rephaim themselves actually confused me a little as in another series I've read recently by Paula Weston, the Rephaim are half-angels and quite different from the beings in this book.
Information overload aside, Samantha Shannon has done an amazing job of keeping the pace up in this debut work. I had a hard time stopping at the end of each chapter, especially towards the end! The action grabbed me more than the characters did – while some of the characters were charmingly unique, I felt that most of the Dials group were a little nondescript and even the Rephaim themselves were hard to visualise. I did love Paige though – she was incredibly determined to hate everyone she perceived as an enemy and that made her a very strong character. The progression of her relationship with Warden was slightly predictable but subtle enough that I loved how it evolved.
I found The Bone Season to be a fantastic debut from Samantha Shannon who at only 22 years of age, with a seven-book publishing deal and upcoming film production under her belt certainly has a bright career ahead of her. Bring on the next in the series!
Warnings: Graphic violence, some sexual situations
What did others think of The Bone Season?
"If you like urban fantasy at all, please read this, you won't regret it." – Curiosity Killed the Bookworm

"Shannon has created so much strange and peculiar mythology that provided so much depth to the novel. This book is just something so odd and yet so special at the same time. " – Scott Reads It
"The world in The Bone Season was very in depth and well thought out, with its own language and a uniqueness unlike anything I've ever read before. But … sometimes it got a bit confusing and hard to grasp." – Auntie Spinelli Reads
Watch the Trailer