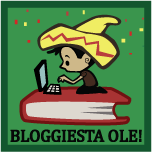 This coming weekend, the book blogging world will take part in Bloggiesta – an opportunity to put some quality time into our blogs! It's an opportunity to work on those bloggy things we've been putting off or weren't sure how to do.
This year it's being hosted by Suey and Danielle and will include mini-challenges and discussions on Twitter. It sounds like it will be a fun weekend! I won't be able to put a huge amount of time in this weekend but I'll be doing what I can.
My blog to-do list pretty much consists of one item:
Choose a new theme and get it working.
The old Pilcrow theme is a good starter, but I'm looking to switch to something with a slightly wider post area. I'd also quite like a strip at the top to put featured posts in. Custom header isn't an absolute must, I can probably live without that. Everything else is a bonus, really. If you know of a theme that fits my criteria, please let me know!
I'm going to be watching the mini-challenges and other activities closely to see if I can glean any extra fandangle things to improve the Bookcase.
Are you interested in joining in?  Make sure you go sign up at It's All About Books and follow @bloggiesta on Twitter.
Olé!