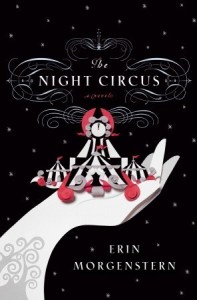 Title: The Night Circus (Goodreads)
Author: 

 Erin Morgenstern (@erinmorgenstern)
Rating:





The circus arrives without warning. No announcements precede it, no paper notices on downtown posts and billboards, no mentions or advertisements in local newspapers. It is simply there, when yesterday it was not. The towering tents are striped in white and black, no golds and crimsons to be seen. No color at all, save for the neighbouring trees and the grass of the surrounding fields. Black-and-white stripes on grey sky; countless tents of varying shapes and sizes, with an elaborate wrought-iron fence encasing them in a colorless world. Even what little ground is visible from outside is black or white, painted or powdered, or treated with some other circus trick.
Details
Series: Stand-alone
Genre: Fantasy, Romance
Published: Doubleday, September 2011
Paper copies: Amazon.com • Amazon.co.uk • Book Depository
E-copies: Amazon.com • Amazon.co.uk • Barnes & Noble
Review
Marco and Celia are pitted against each other in a mysterious game they have been preparing for since they were children. Le Cirque des Rêves is the staging ground – a magical circus full of wonders.
The Night Circus seems to be one of those books that people either love or hate, judging by the reviews I've seen. The story is quite slow to develop. The main characters don't even see each other for years at a time and compete by adding wonders to the circus to out-do each other. If you're after a battle with Cruciatus curses flying around, you're in the wrong place.
I loved reading this book. It's hard to put into words why I did, but I think the descriptions of the Cirque is what did it for me – Morgenstern's gift for beautiful prose is undeniable and she conjures dream-like images from every page. I may just have to get myself a red scarf and become a rêveur!
Set in and around the late 1800s, the story is made up of many small chapters, switching between several different threads of story. At first this was a little confusing  because some sections are later in time than others, but once I started paying attention to the dates at the start of each section I understood better how all the threads fit together. Another potentially confusing element is that it is told in the present tense. It took me a little while to get used to it, then every now and then there is a section of second-person point of view (for example, "You move the curtain aside") which allows Morgenstern to describe a tent that the characters haven't visited.
As the story moves on, the threads become shorter and closer together, until they are woven together into one story. The story itself does peter out a little at the end, the action giving way to a lengthy discussion between characters in the last few chapters.
The author has created a cast of interesting characters, complete with a web of relationships. The romance is sweet and delightful, although there isn't really any explanation as to why it exists. That didn't stop it from sending tingles up my spine while reading, though.
Erin Morgenstern's debut is a delight to read. If you love magic and descriptions of beautiful and fantastic places, read The Night Circus without delay!