Welcome to The Oaken Bookcase's second stop on the Double the Scifi Tour! Last week I reviewed Vitality by Tim Andrewartha. Today I'm happy to share a review and giveaway for WiSpY.
~o~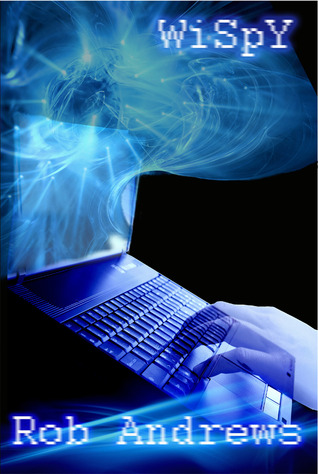 Title: WiSpY (Goodreads)
Author: 

 Rob Andrews (@wispyauthor)
Rating: 

Adam is a 19 year old blogger who lives in his mother's basement. A simple reply to a blog fan e-mail begins a relationship with Pretoria, a beautiful and mysterious young woman. Pretoria guides him into 'the Realm', a spirit world where he discovers he is a powerful force for the protection and survival of human kind.
Details
Series: Stand-alone
Genre: YA Paranormal/Sci-fi
Published: Dam Good Publishing, December 2011
Pages: 346
Paper copies: Amazon.com • Amazon.co.uk • Book Depository
E-copies: Amazon.com • Amazon.co.uk • Barnes & Noble
Review
WiSpY is a fast-paced and exciting story. Right from the first chapter, I was drawn in by the strange things that started to happen to Adam and by the time he met Pretoria and things started to really get rolling, I couldn't put it down.
I loved the way the story flowed – even with the twists and turns, each scene moved forward to the next very easily and I had to keep reading to find out what would happen next.
Adam is a likeable character although a little sleazy towards Pretoria. I'll let him off because he's only nineteen. Pretoria seems like such a caring person – it's sweet the way she keeps checking to make sure Adam is alright with everything.
The only thing I can say against it is that the concepts surrounding the "Realm" are very complicated. There's a section in the middle of the book where Pretoria explains everything to Adam in one day – it's such a deluge of information that I'm still not sure I get it all after a second read-through. It isn't essential to understanding the rest of the story though and there wouldn't really have been an easier way to present the information to Adam and the reader.
From the little that we hear during WiSpY, it sounds as though there is a lot more to the story of the First Ones, New Ones, Straddlers and Protectors both in the past and coming in the future. I hope Rob Andrews decides to continue to write about this compelling world.
~o~
Giveaway
Dam Good Publishing are offering an e-book copy of WiSpY to give away. The competition is open internationally! The winner will be chosen next Friday, April 6 and notified by email.
Good luck!