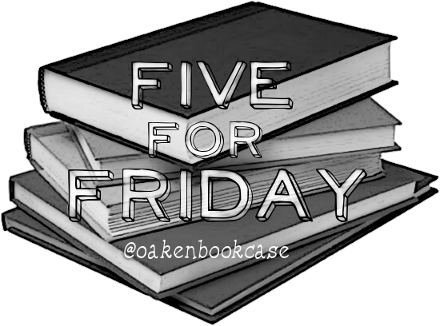 It's Friday! That means it's time for Five For Friday.
This weekend, Bloggiesta is on! Book bloggers from around the world are working hard on their blogs to spruce them up. I thought it was fitting that this week's Friday Five should be:
Five things I plan to do for Bloggiesta!
1. Choose a new theme and install it.
I've had a look around at some of the WordPress themes available and have come to the conclusions that:
There are faaaar too many themes available for me to ever look at and evaluate, and
I am really bad at trying to imagine what they actually look like on a blog and what I could do with them.
I've decided that even though I really like the look of the flashy premium themes, I'm going to first try out a free one or two from wordpress.org. I can always change later if I decide I need to.
My number one aim through this design process is to try to avoid clutter as much as possible by working out what is really needed for function, and moving or removing extra bits and pieces.
Please bear with me for the next few days (maybe this week?) until I get things sorted around here!
Here's a "before" image (click for bigger):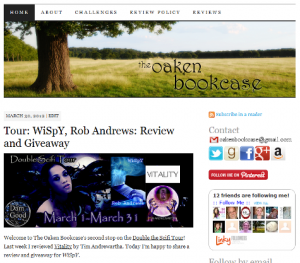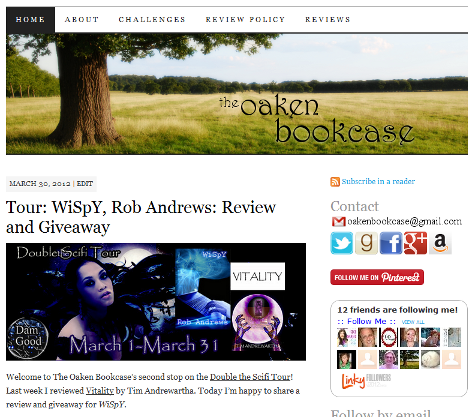 2. Rethink what needs to be in the sidebar.
My sidebar needs rearranging, but I'll sort the theme out before I start messing with it. The Reading Fever has a Bloggiesta mini-challenge about sidebars which looks very helpful! My aim is as previously mentioned: Avoid clutter, retain function.
3. Learn about Search Engine Optimisation.
I haven't really thought about SEO before on my previous blogs, but its important to be able to be found easily. If I learn about it now, I can start putting search engine-friendly things into posts right away while my blog is only small. I spied a Bloggiesta mini-challenge about this on Good Books & Good Wine.
4. Blogroll update
I am considering moving my blogroll to a links page or removing it altogether – I follow a lot of blogs now and it doesn't seem fair to miss any out. Blogger has a neat widget that shows the blogs updated recently at the top, but I don't see anything like that for WordPress. Any advice for blogrolls?
5. Sort out my Goodreads shelves
I started doing this already in dribs and drabs, but it really needs a good re-shelving effort. This includes sorting my to-read pile to I can work out what needs to be read by when.
There's a lot to do! Happy Bloggiesta!